Why Draftsmen Draw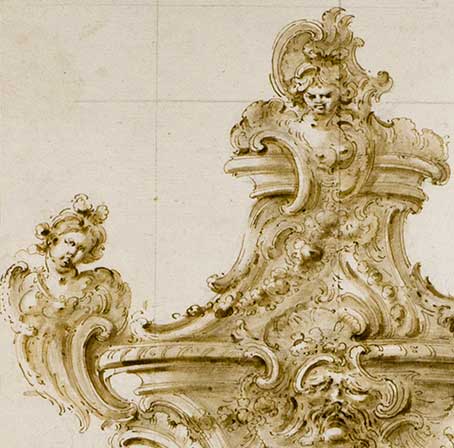 When we think of drawings, we often think pencil and paper. However, in the 18th century, the starting point for the works on offer here, the meanings of drawing were much more multiple. The Italian and French words for drawing – disegno and dessin – are, obviously, close to the English design, a word, like drawing (and painting), both noun and verb. Our catalog includes drawings drawn in a variety of ways, including red and black and white chalk, charcoal, pen and ink and ink wash, watercolor and gouache – all on laid paper.
They were also made for a variety of purposes. A wonderful drawing by the most famous of Italian ruins painters – Gian Paolo Panini, admired for his canvases – is a scarce, finished, stand alone work of art on paper and not preparatory to a painting.
A pair of early 18th century pen and wash drawings by Bolognese artist, Pietro Paltronieri, are elegant studies for at least one later painting, which we've located in the collection of the Kunst Historiches Museum in Vienna. While Paltronieri's reputation is as a painter of large-scale capricci, these small wash drawings, delicate and dexterously rendered in a variation of the same medium, are more compelling views.
Perhaps most entertaining of current drawings is a design for a vase made by Giovanni Bettati while working in the Roman workshop of decorative arts master, Luigi Valadier. (fig. 1) This ink drawing, rendered in full throttle Italian Rococo and awash in swirling lines, figures and grotesques, shows two possibilities for the vase, which is divided down its middle into two dissimilar halves. The idea was that the client choose their favorite half and let loose Valadier's skilled silversmiths to fashion the remarkable object Bettati had prepared. Unfortunately, the vase itself has not yet surfaced. Fortunately, we have this extraordinary drawing.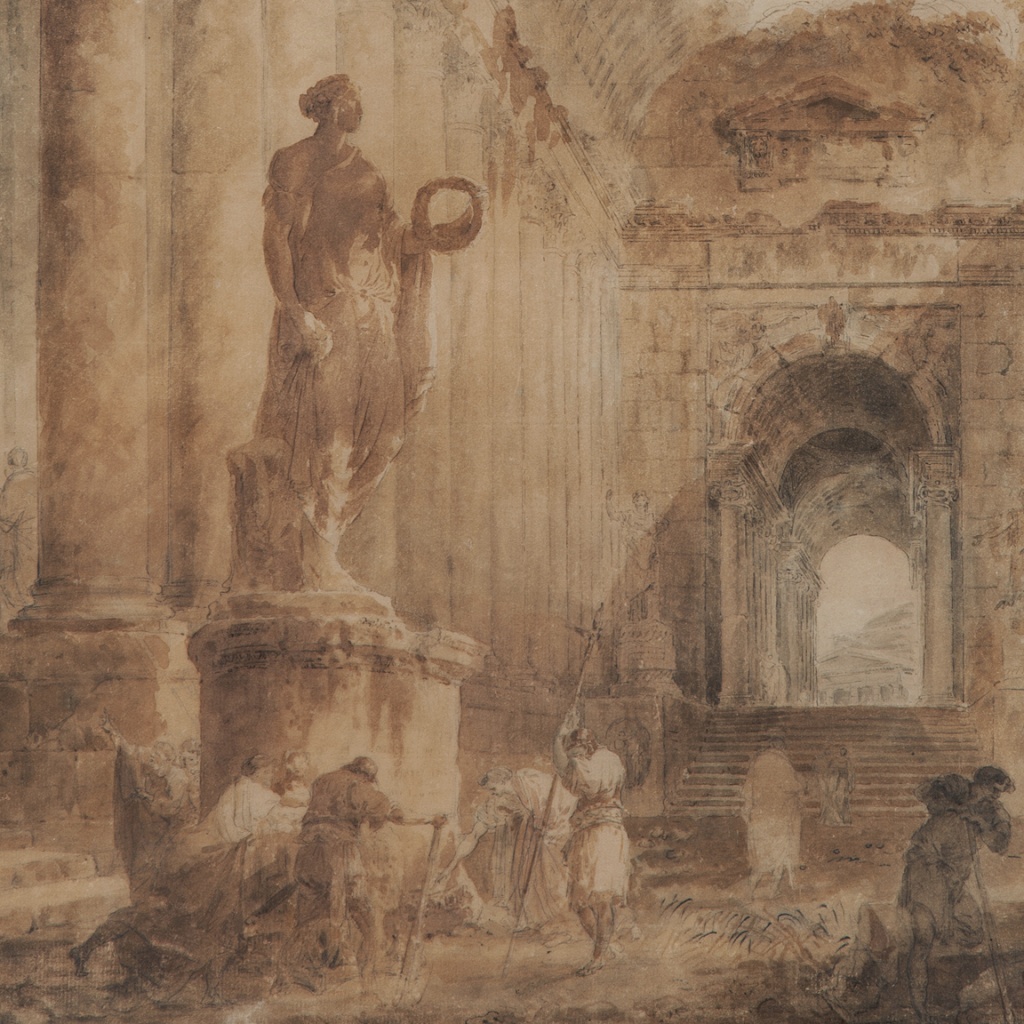 The most common purposes of drawings, then as now, are more modest than making ART, working out the design of a canvas, or of a vase. These involve the observations of places, recording of ideas, and exercise of techniques to the satisfaction of no one, save the artist. These sorts of works, unvarnished, largely loosed from expectations, offer their own pleasures.
Currently, we're fortunate to offer several drawings by the French master Hubert Robert. Robert trained in Panini's Roman studio, before returning to Paris, and beginning a highly successful career as a painter on canvas. These are of several types including: rough sketches in black and red chalk that explore formal and spatial themes seen in other work; a large, signed and highly-finished, pen and ink and wash drawing of a novel subject, preparatory to no known painting; and a very large, also signed, multi media view of a recurring theme – a long, ruined gallery, reminiscent of other drawings and paintings (fig. 2), especially his famous view of the Louvre in ruins and preparatory to no known work.  Taken together, these drawings provide an idea of how the artist worked – exploring, adapting, abandoning themes, strategies, techniques; examining the past in ways novel and familiar; working matters out both from curiosity and pleasure.
The annals of Art history record biases against drawings, in favor of paintings, viewing the former as simply supplementary, inevitable consequences of the latter. An exhibition at the National Gallery in Washington D.C. weighted matters much more equally, at least in the case of Hubert Robert.
Hubert Robert, 1733 – 1808, ran from June 26 – October 2, 2016, and included 50 canvases and 50 drawings.