Claude-Joseph Vernet
avignon 1714 – 1789 paris
Claude-Josephe Vernet, Giovanni Battista Piranesi and Charles-Louis Clerisseau at the Great Baths, Hadrian's Villa, ca. 1746
brown ink, wash and body color on paper, 24 x 35 cm.
Literature
SFO Airport Museum, All Roads Lead to Rome, (2017), illus. pp. 48-9.
Exhibition
SFO Airport Museum, All Roads Lead to Rome: 17th-19th Century Souvenirs from the Collection of Piraneseum, January 24-August 13, 2017
Piranesi's 1799 biography –Notice Historique sur la Vie et sur les Ouvrages de J. B. Piranesi, Architect, Peintre et Graveur – provides an account of the master's visit to Hadrian's Villa, a half century earlier, in the company of two French painters – Charles-Louis Clerisseau (1721 – 1820), then a young man fresh to Rome, and Claude-Joseph Vernet, a bit older, and on the verge of being recalled to Paris by Louis XV, for a project that would distinguish him as one of the great landscape painters of the 18th century. While biographer J. G. Legrand puts the date of their excursion between 1743 to 1753, a more recent source places it in 1752.  Greater precision still is provided by Leon Lagrange's 1858 biography, Joseph Vernet, which has his subject leaving Rome for Marseilles in May, 1752, as he did the previous two years, to escape the city's feverous Summer, especially the mal'aria.
There were distractions that Spring day. Before the artists could commence sketching, they had first to dispatch the local crowd of scorpions and snakes, for which they employed fire and an axe. (The story adds context to Piranesi's 1750 suite of Grotteschi, whose surfaces crawl with serpents and a scorpion, are congested with not quite desiccated human skeletal remains, architectural and sculptural bits and pieces and violated tombs, overrun by invasive vines, choked by fires and clouds of smoke – landscape tumbled down, pressed together over centuries – the rot of ancient civilization.)
This Claude-Joseph Vernet drawing, of the Great Baths at Hadrian's Villa, is done in brown ink, ink wash, and body color over pencil outline. Vernet drew in a variety of media, though the best known of these may be pen and ink, with light washes. The collection of Vernet drawings in the Louvre includes multiple examples similar in technique to the present work.
This drawing is on laid paper with a centered Strasburg Lily watermark, 24 x 35 cm. The work is signed recto, in pencil, 'Roma Vernet ft.,' and verso, in pen and ink, 'Vernet Roma.' The drawing retains an old mount, with the drawn title 'J. Vernet' framed by the ancient Roman device of a tabula ansata. To the mount's backing are adhered two old sale labels. The upper of these, likely the older, reads "Vernet (Joseph); 70. Ruines romaines. Crayon, lavis de sepia et blanc, Signe a droit en bas (with dimensions)." The lower reads "VERNET (Claude-Joseph); (Avignon 1714 – Paris 1789); Peintre de paysage et de marine. Classe par Diderot au rang des plus grands peintres."
After Vernet's death on December 3, 1789, his children organized a sale of his effects on April 20 and 21, 1790. Among these were "more than 500 drawings in pencil, with brush or in China ink, on white or blue paper, in which there are many views of Tivoli." Biographer Philip Conisbee puts the number of drawings and sketches in the sale at "approaching 700," while noting that few of the artist's drawings circulated during his lifetime. It seems likely, then, that the present drawing was originally offered at the 1790 sale.
Gathered together in the scene, within an arched niche, are three men. One stands; the other two are seated, engrossed in sketching the scene before them. On the ruin's roof are two more men, including a gently bent figure, topped by a tricorn hat, holding a long narrow staff (very like a fishing pole), gesturing out to the distance, the figure of a working man familiar in other Vernet compositions. (Critics have noted the presence of these fellows in other Vernet pictures set far from water.) Perhaps they accompanied those sketching below. Perhaps they are figments, provided by the artist for the purposes of scale, or balance, or other picture-making effects.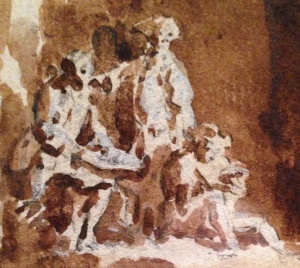 A light fold runs down the center of this sheet, revealed somewhat thrillingly by a thin line of ink gathered to the bottom of the crease. Which is to say that Vernet, that bright Roman day in late Spring (note the abundant foliage), more than 250 years distant, folded his lovely ink drawing a few minutes before it was fully dry. Perhaps it was time for the band of artists to be on their way.
"Others may know better how to paint the sky, the earth, the ocean; no one knows better than I how to paint a picture," was Vernet's famous claim, once he'd returned to Paris, and met with serial successes. Today, of course, this sounds a boast, its tone something we expect from a prize fighter, not an artist.
And yet, in the then hyperbolic context of French commentary on the Arts, Monsieur Vernet's words hardly overstep. Consider Denis Diderot, the age's most famed Art critic, writing in the Catalogue of the 1767 Paris Salon, of Vernet's entries:
"What doesn't he do superbly well? Human figures of all ages, of all social strata, of all nations; trees, animals, landscapes, seascapes, perspective views; every kind of poetry, imposing rocks, eternal mountains, waters that are calm, agitated, rushing forward, torrential streams, tranquil seas and angry seas, sites whose variety is infinite, buildings that are Greek, Roman, Gothic; architecture that's civilian and military, ancient and modern; ruins, palaces, thatched huts, utilitarian structures; ships, rigging and other nautical paraphernalia; the heavens, distant prospects, stillness, stormy weather and serene weather, skies for every season, light for every hour of the day, tempests, shipwrecks, deplorable situations, pathetic scenes and victims of all sorts….."
And he goes on from there in an essay titled 'La Promenade Vernet,' describing an imagined walk among the painter's several canvases at the salon, as though through something of the worlds these pictures create. Long before there were Art 'environments,' or Disney's 'dark rides,' there was Diderot hallucinating among the Vernets.
What does the 1767 Salon have to do with our little Roman travel sketch? Only to demonstrate the remarkable, evocative, transforming force of landscape painting in the mid-18th century and perhaps to highlight that memorable afternoon when three artists shared the same ruined, rocky perch.
The phenomenon of artists painting artists painting is, of course, recurring, though hardly undertaken by all. A favorite example, and the most enthusiastic, is Francois de Nome's (1593 – 1640) earlier 17th century view of a dozen or more artists sketching the architectural fantasia before them. It was a theme to which he did not return.
More than 100 years later, Hubert Robert (1733 -1808) deployed artists sketching throughout his landscape drawings and, less often, paintings. Are these self-portraits, or do they picture his artist friends, especially Fragonard (1732 – 1806), with whom he often shared company during his Italian drawing jaunts in the mid-1700's?
With Vernet, on the other hand, we've located just a single painting – his monumental 1746 view of the Villa at Caprarola – picturing an artist sketching. Some say this fellow is not Vernet or any other artist, but the Cardinal who commissioned the canvas. Vernet's 1749 painting of a gathering in the Garden of the Villa Ludovisi includes a splendidly outfitted figure – Vernet – standing, his wife and child nearby, taking in a drawing with a well-dressed acquaintance. There may be a brush in the artist's right hand. However, the picture is of entertainment, and the artist cannot be counted at work. Vernet paints Vernet again in his 1750 Jousting on the River Tiber at Rome.  With this though, there is neither drawing nor brush.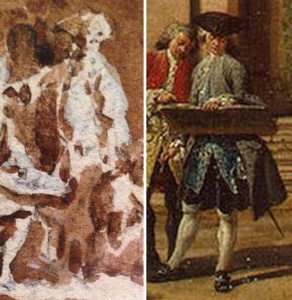 According to Conisbee, the figure of a solitary artist at work is common to Vernet's drawings. He includes an unfinished example in his 1976 catalogue for the Vernet exhibition at Kenwood House, though does not comment on the presence of multiple artists within a single Vernet sketch. He notes, "Vernet's drawings … have never been studied." The sketch before us, then, its 'story' driven by the three tightly-grouped figures, is a hybrid – something of the narrative complexity of a painting stirred with something of the device of a drawing.
Does Vernet's drawing at Hadrian's Villa, very near in time to the Ludovisi and Jousting pictures, a little further from Caprarola, record, as these paintings seem to, some singular memorable moment? There is some evidence.
The stance, posture, physical proportions, and dress of the standing Hadrian's Villa figure and Vernet at Villa Ludovisi are nearly identical, down to the just-so positioning of their tricorne hats. As with the Ludovisi Vernet, the Hadrian's Villa figure is taller than his companions and in line with the stature suggested by Louise Elisabeth LeBrun's well known 1778 portrait of the artist.
At the standing figure's feet, a shorter man, also tricorne hatted (and thus presumably French), works away on a small drawing on his knee. His left hand holds a small palette, his right hand (again presumably) a brush. His rounded visage, and relative nimbleness – working while seated on the stone outcrop – suggest a younger man.
In the Spring of 1752, a year before the 38 year old Vernet returned to Paris, Charles-Louis Clerisseau had been in Rome just three years, and was 32. A 1762 Angelica Kauffman sketch of the artist has him with a thick physique (like the figure in Vernet's drawing), grasping a drawing board in his left hand, leaving his brush hand free.
In the collection of the Hermitage are Clerisseau wash drawings of Hadrian's Villa. Exceedingly lovely, they are, by comparison with the sophistications soon to come, somewhat juvenile works. One of these is taken from very nearly the same point the seated figure occupies in Vernet's drawing, and is dated to the 1750's. At 43.5 x 60.4 cm., however, it is larger than the drawing perched on that figure's knee. However, also in that collection, and dated to 1750, is a nearby view on a sheet just 16 x 26 cm. Vernet and Clerisseau were, at the same time, pensionnaires at the French Academy in Rome. Whilst Clerisseau was awarded the Prix de Rome in 1746, Vernet had been admitted only 'unofficially' (through an advocate's intervention), after arriving in Rome. Unlike Vernet, Clerisseau soon became a great friend of Piranesi, and by the 1750's the two made multiple visits to Hadrian's Villa. Accounts have Vernet and Clerisseau counted as friends, while Vernet and Piranesi were simply acquainted.
The left hand figure of our Hadrian's group sits on a rock, his head and gaze turned directly towards us, rather than the ruins occupying the two French artists. This figure is attired differently than his companions – no tricorne hat, though perhaps some sort of head wear, and he wears a coat cut quite differently from that of the standing figure. He's also drawn, unlike his companions, with dark, angular, approaching jagged, strokes, his body modeled in chiaroscuro. (The effect is not unlike many of the emphatically gesturing, somewhat ragged denizens inhabiting any number of Piranesi etchings).
He holds a drawing board much larger than that of the seated figure, which he steadies with his left hand. There is no trace of a palette or brush, and we must imagine his right hand guiding a stick of black chalk. Vernet has given the surface of this apparently nascent sketch a charcoal hue. Of Piranesi's sketching method, scholar John Wilton-ely writes of his usual working method "…his vigorous use of red chalk over a light initial sketch in black chalk emphasizes the tonal color…"
"The majority of (Piranesi's) preparatory sketches appear to have been done on the backs of trial proofs of his prints or on any available scraps of paper." Piranesi's biographer, J. G. Legrand, Clerisseau's son-in-law, writes "Piranesi never produces finish sketches…" Asked about this, the artist replied, "Can't you see that if my drawing was finished my plate would become nothing more than a copy while, on the contrary, I create the impression straight on the copper."
In 1752, Piranesi was at work on new plates of the Vedute di Roma, as well as reworkings of various other series and an upcoming series including views of Hadrian's Villa. The sheet receiving this artist's attention is smaller than a typical Veduta – 51.5 x 74 cm. If this is Piranesi, he's drawing on some other scrap.
Wilton-Ely notes, "Piranesi's close familiarity with the Villa dates back at least to the 1750's, when there are accounts of sketching expeditions made in the company of Robert Adam, Clerisseau, and Allan Ramsay." That Piranesi's eminent chronicler does not include Vernet in this group points in the direction of it being a one-off event. Aside from their prodigious talents, the two men held in common just their respective friendships with Clerisseau. Out of this awareness and an understanding that he was soon leaving for France, might Vernet have felt prompted to paint himself and his companions into the scene – a kind of mid-18th century Polaroid?
Unlike Clerisseau and Piranesi, Vernet seems not to have taken to Hadrian's Villa. We have located no references to other visits there, nor other drawings, nor any paintings. Perhaps it was the scorpions and snakes; perhaps it was Piranesi. Perhaps a matter of predilection. As Conisbee writes, "Vernet did not paint ancient ruins; except as an occasional landscape feature." Perhaps this is why he pictures himself not sketching.
Vernet much preferred Tivoli – the Temple of the Sibyl, overlooking the waterfalls and cascades of the Aniene, a couple of miles to the northeast. There is an abundant drawn and painted record of his enthusiasm for this scene; one resonant in much later paintings, as well – the position, size, and scale of the Temple of the Sibyl in Vernet's Tivoli pictures closely anticipates those of the towers and lighthouses in several of his later, much more famous marine views.
That he seems to have made no further visits to Hadrian's Villa is hardly a surprise. By March, 1753, Vernet and his family were on a ship, bound for France. "After living for nearly twenty years in Italy, Vernet was never to return there – except through memory and art," offers Conisbee. That much of this memory was carried by art, by travel sketches reminding of sunny Roman Spring afternoons, spent in the company of accomplished friends, illustrious counterparts, drawing the landscape of History's vestiges, may have provided Monsieur Vernet particular satisfaction.