Hubert Robert
paris 1733 – 1808
Capriccio of Fountain Ruins with Figure of Atlas
ink and ink wash
59 x 39 cm., ca. 1760
signed on the plinth supporting the statue
Exhibition
SFO Airport Museum, All Roads Lead to Rome: 17th-19th Century Souvenirs from the Collection of Piraneseum, January 24-August 13, 2017
Unlike most Robert drawings, this unusually large, very carefully drawn capriccio of women gathering water at an ancient fountain in front of a very large statue of Atlas shouldering a globe, does not appear preparatory to any painting of his we've yet discovered, but is, instead, itself a finished work. In this, he follows the example of his Roman mentor – Gian Paolo Panini – who produced just a few, highly-finished (and priced) drawings of ancient and ruined buildings as stand-alone artworks.
The Musee Fabre, in Montpellier, France, holds a red chalk drawing – Ruines de Fontaine Avec la Statue d'Atlas – almost identical in size to our more finished work, which was long ascribed to and exhibited as Robert (fig. 1).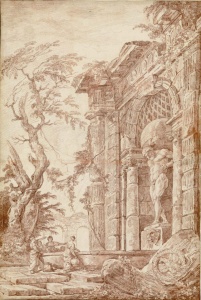 The Museum has since re-attributed this drawing to Jean Robert Ango. An artist of some ability, Ango was in Rome from c. 1760, working until 1772. He accompanied Robert and Fragonard on their sketching trips, and copied drawings by them and others.
In the lower part of the picture, a group of women gather water from an ancient basin. Beyond, set into a monumental niche in a Classical, crumbling façade, a colossal figure of Atlas supports a globe, which, in Greek mythology, represents the heavens. Above him, carved into the face of the keystone is "Atlantis Fons," literally 'Atlantis, the source' of the water. Atlas stands on a shallow plinth on which is drawn Roberti and the date. To the lower right, among the ruins are a large bas-relief of a Roman imperial eagle, centered in a laurel wreath – a figure perhaps most memorably shown in the frontispiece to Volume II of Piranesi's 1778 – 80 Vasi, Candelabri, Cippi, Sarcophagi … (fig. 2).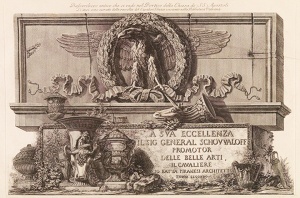 The greatest concentration of Robert drawings of all types is in the Louvre. Other museums holding his work include the Hermitage, St. Petersburg; the Getty, Los Angeles; Metropolitan Museum, New York; and Museum of Fine Arts, Boston.