Pietro Paltronieri
mirandola 1673 – 1741 bologna
"Il Mirandolese dalle Prospettive"
Pair of Capricci of Architectural Ruins
Pen and brown ink with brown wash
2 @ 22 x 28 cm., 8-1/2 x 11" each
laid paper, one with watermark – anchor in a circle below a six pointed star
Literature
SFO Airport Museum, All Roads Lead to Rome, (2017), illus. pp. 32-3.
Exhibitions
SFO Airport Museum, All Roads Lead to Rome: 17th-19th Century Souvenirs from the Collection of Piraneseum,
January 24-August 13, 2017
In Art, as in all endeavors, reputations rise and fall across the years, decades, centuries. This phenomenon is seen especially clearly in 17th and 18th century Italian architectural ruins painting. Though a genre that persisted barely a hundred years, various artists have traded places within (and outside) the form's pantheon. Today, Gian Paolo Panini is considered the unequaled master of the capriccio, while in the mid-20th century he was thought derivative of the earlier Giovanni Ghisolfi. In the 18th century, Art historians had Neapolitan Gennaro Greco the surpassing 'southern' painter of ruins. Today, Greco is scarcely a footnote to the slightly later artist Leonardo Coccorante, who some Art historians compare to Salvator Rosa.
And then we have the example of Pietro Paltronieri, who brushed out this complex, deftly-nuanced pair of drawings. For poor Pietro, history has proved especially unkind. Almost wholly unappreciated today, back in the day he was thought the equal of such luminary painters as Canaletto, Marco and Sebastiano Ricci, and Cimaroli.
In 1736, all, including Pietro, were invited to collaborate on one of the oddest pictorial projects of the 18th century – a series of allegorical tombs for a politically-motivated, imaginary, famous Englishmen – decorations for the house of the Duke of Richmond, celebrating the recent Whig triumph. Since then, Paltronieri's star has dimmed.
Born in Mirandola, 50 kilometers north of Bologna, the 17th century birthplace of Italian quadratura (architecturally illusionistic) painting, Paltronieri's perspectivally-based work is rooted in this tradition. Unlike other painters whose views focus solely on classicism, Paltronieri's subject matter is wider ranging, often including Gothic churches, construction sites, vernacular houses and apartments, fountains and wells – the scenography of the everyday.
Paltronieri often worked at a large scale on elaborately shaped canvases and with multiple pictures forming a single suite of pictures. The effects can be highly decorative.
This lovely pair of ambitious was drawings was prepared with a purpose. The rectangular picture is preparatory to Paltronieri's painting in Vienna's Kunsthistorisches Museum (Inv. #GG2388).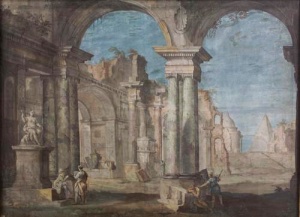 For a painter so strongly identified with Bologna, both drawings' subject matter is unambiguously Roman. The rectangular image includes the Marcus Aurelius Equestrian Monument and Pyramid of Caius Cestius. The other image features curving, hulking ruins very much reminding of the Colosseum.
Because these drawings are nearly identically-sized, fashioned in the same media, form such a compelling pair, and were found together, it appears likely that there was another picture, intended to pair with the Kunsthistorisches Museum's painting.
Among the reliable disappointments in reading Art History is when the historian veers away from history, and into the spongy realm of criticism. Though no historian, I doubt this prevents a wincing response to a couple of critical sentences concerning these drawings. Apologies in advance.
While Piraneseum offers splendid drawings by several of the acknowledged 18th century masters of the capriccio form, none are more engaging and evocative, more skillfully composed and richly rendered, and finally, more delightful than this pair by Bologna's forgotten master. Counterintuitively, with some artists, we are held in thrall of their drawings much more than their paintings, even those paintings that proceed from their drawings. This for me is the case with Il Mirandolese. If the pendulum of Pietro Paltronieri's reputation is to begin to swing the opposite way, let that begin here with these wonderful drawings providing the push.