Architectural Souvenirs of the Grand Tour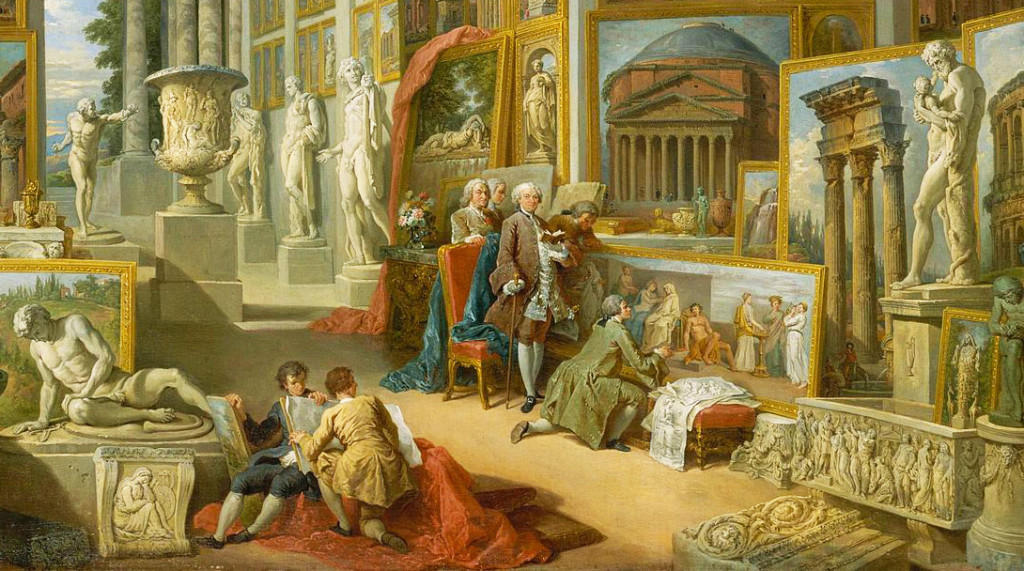 The rise of tourism in Italy brought the 1670 publication of Englishman Richard Lassels' Voyage of Italy, or a Compleat Journey Through Italy, which coined the quickly ubiquitous term 'Grand Tour.' With tourists, almost of course, came the need for souvenirs. The most well-to-do visitors returned with crates of Italian antiquities – Classicizing bronze and marble statuary, fragments of ancient buildings, antique relics of every type (fig. 1) – as well as paintings, sculptures, and decorative arts fashioned by Italian Renaissance and later masters.
In time, responding to the increasing press of visitors, there came to be a market for new, Classicizing Italian art of all types. With sculpture, for example, this demand was met with the suavery of Antonio Canova (1757 – 1822), recasting ancient themes in modern terms.
New Italian architectural painting of the 17th and 18th centuries proved a very much more variable affair, with dozens of able, talented artists producing the widest range of pictures, many of which shared identical subject matter – ancient ruins.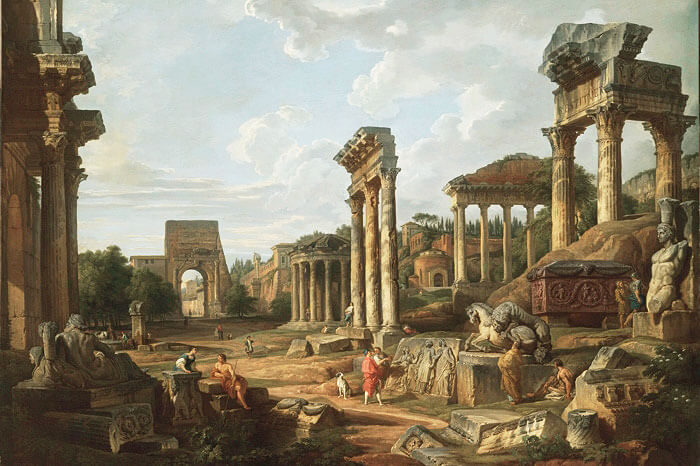 For all the latitude of these artists' visions, their pictures are very nearly always of just two types – realistic views of ruins, or vedute essate; and imaginary views, or vedute ideate – more familiarly, capricci.
The most famous, and successful, of the 18th century architectural painters, Gian Paolo Panini (1691 – 1765), the Canova of his Art, often combined both genres, in very seductive ways, realistically portraying the most famous ancient monuments within the most picturesque, though wholly imaginary, landscape settings. With deft alluring strokes of his brush, Panini made next door neighbors of temples and obelisks which history had, shortsightedly, separated by miles (fig. 2).
By the later 18th century, visitors to Rome might also return with souvenir architectural models of the city's principal, very often ruined, landmarks. At first these were crafted in cork, or in precious stones and antique specimen marbles, fitted with gilded bronze ornament (fig. 3).
By the beginning of the 19th century, though, somewhat less extravagant and costly souvenirs were available. These are remarkable in their own ways, often highly and carefully worked in bronze or in ancient specimen marbles brought to Rome two thousand years ago, from some far-flung province of that shattered civilization.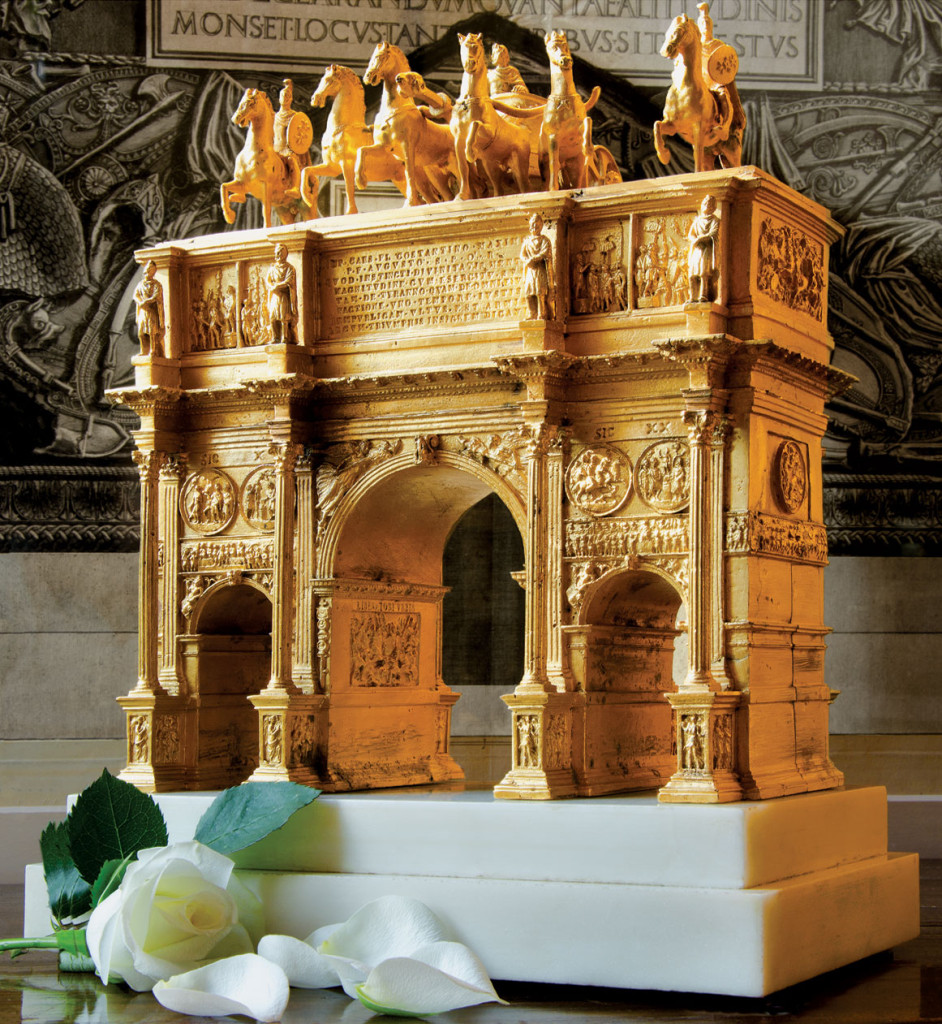 After 1700, Grand Tourists might also choose from the increasing variety of etchings (and other works on paper) – again picturing architectural, principally Roman ruins – made by several of the era's most notable artists, including Guiseppe Vasi (1710 – 1782), Marco Ricci (1676 – 1730), and later, Hubert Robert (1733-1808).
Despite this abundance of talent, with the subject of Roman ruins, no artist's work approaches the wild, incandescent, risk-taking brilliance of Giovanni Battista Piranesi (1720 – 1778) (fig. 4). Over the 40 year course of his feverish, more often than not notorious, career, Piranesi produced 1600 highly dramatic views of Rome and other, somewhat more imaginary places. Piranesi's etchings, immediately popular with the range of Grand Tourists, were, of course, less expensive than oil paintings or marble and gilt bronze models, and within reach of the increasing swells of Rome's less high-born visitors in the mid 18th century.
Piraneseum, near San Francisco, trades exclusively in this range of 17th, 18th, and 19th century architectural paintings and models and in closely allied phenomena, including the remarkable 18th century etchings of Giovanni Battista Piranesi and others, as well as architecturally-influenced, 19th century and earlier European decorative arts.
With the paintings, Piraneseum focuses on artists of the first rank – Gian Paolo Panini, Viviano Codazzi (1604-1670), Giovanni Ghisolfi (1623-1683), Leonardo Coccorante (1680-1750), as well as Frenchman Hubert Robert, who learned much of his craft in Panini's Roman studio, and alongside his compatriot Jean Honore Fragonard (1732 – 1806).
With the models, Piraneseum trades in the most highly-crafted, 18th and 19th century Roman examples, including work from the Valadier studio, and Hopfgarten and Jollage, as well as others spanning the entire length of the 19th century, featuring not only Roman and Italian monuments, but those from other destinations along the Grand Tour, including Florence and Pisa; Paris, Berlin, and London.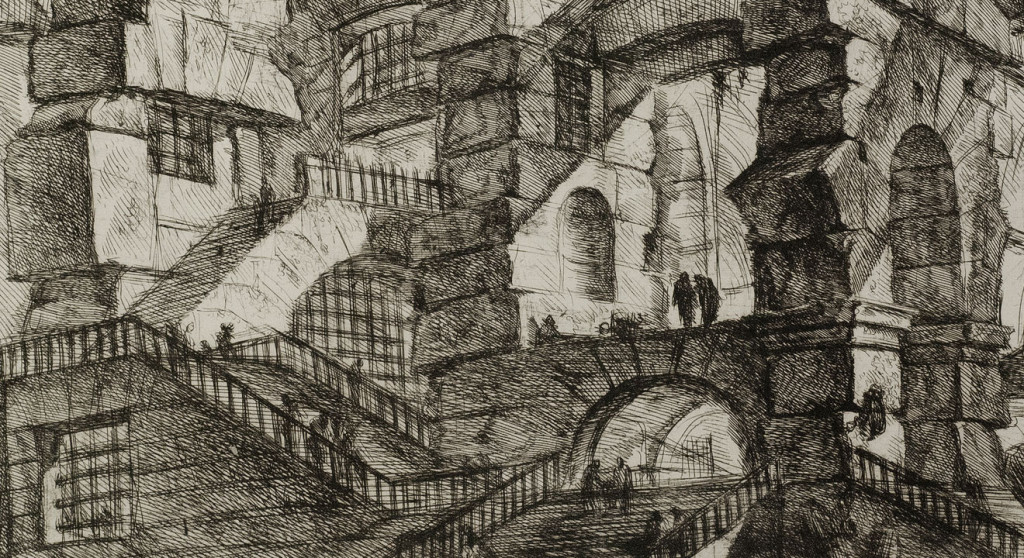 Given their shared subject matter, these paintings and models prove especially rich, intriguing and compelling when installed alongside each other, especially when seasoned with the 18th century architectural etchings and other graphic work, and related decorative arts which round out Piraneseum's offerings. Our catalogue illustrates some of the variety of possibilities of interiors featuring these similarly-focused sets of pictures and objects.
Piraneseum partners Lucia Howard and David Weingarten are noted architects and have designed memorable buildings and interiors in a variety of styles and scales, including works domestic and public. They were twice included among the AD100 – Architectural Digest's list of the world's foremost architects. Lucia and David possess extensive experience with the paintings, models, graphic works, and decorative arts forming Piraneseum's offerings. Objects from their world-leading collection of souvenir architectural miniatures have formed exhibitions at museums across the United States, including the Art Institute of Chicago, San Francisco Museum of Modern Art, Museum of the City of New York, and Octagon Museum in Washington, D. C.
Piraneseum's 2017 exhibit at the San Francisco Airport Museum – All Roads Lead to Rome: 17th – 19th Century Architectural Souvenirs from the Collection of Piraneseum, included some 80 objects from their Collection.
All Roads Lead to Rome – was a large, ambitious exhibition considering the range of 17th, 18th and 19th century Roman and Roman-inspired places given form in souvenirs, as well as several earlier models presenting architectural proposals, was on view in the International Terminal from January 21 – August 13, 2017.
All Roads told the story of  17th and 18th century architectural ruins paintings, drawings and etchings, 17th – 19th century architectural models, and 19th century decorative arts, as varying treatments of the same subjects. The story unfolded along two 60 foot long cases in the International Terminal.  Click here to see the catalog.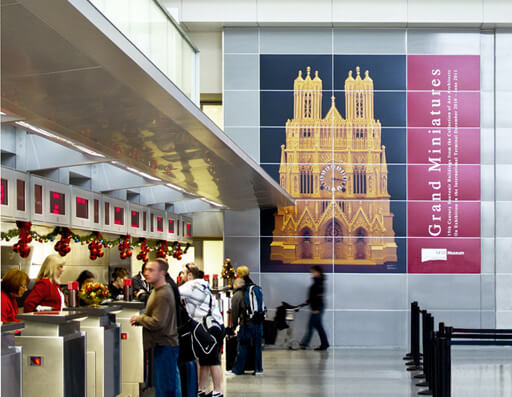 Their 1996 book Souvenir Buildings/Miniature Monuments, the first to examine the role and history of the phenomenon of souvenir architectural models – was published by Harry Abrams.
Their 2011 exhibition, Grand Miniatures, in the International Terminal of San Francisco Airport, focused on the range of 19th century, European souvenir architectural models. Their current show – All Roads Lead to Rome – is a large, ambitious exhibition considering the range of 17th, 18th and 19th century Roman and Roman-inspired places given form in souvenirs, will be on view in the International Terminal from January 21 – August 13, 2017 (fig. 5).
Piraneseum's groundbreaking research into the phenomenon of the history of European architectural souvenirs is featured throughout this site, and is the first comprehensive examination of the origins, makers, materials, and cultural significances of these intriguing objects.
Piraneseum's collection of 17th and 18th century Italian architectural ruin paintings, offered on this site, has been described as the highest quality collection of Italian capricci yet assembled. The great majority of these pictures are included in Professor Giancarlo Sestieri's 2015 multi-volume, definitive catalogue of the phenomenon – Il Capriccio Architettonico.
For more about Piraneseum please contact us