"Casanova: The Seduction of Europe" Illuminates 18th C. Europe with a Spectacular Group of Paintings
March 27, 2018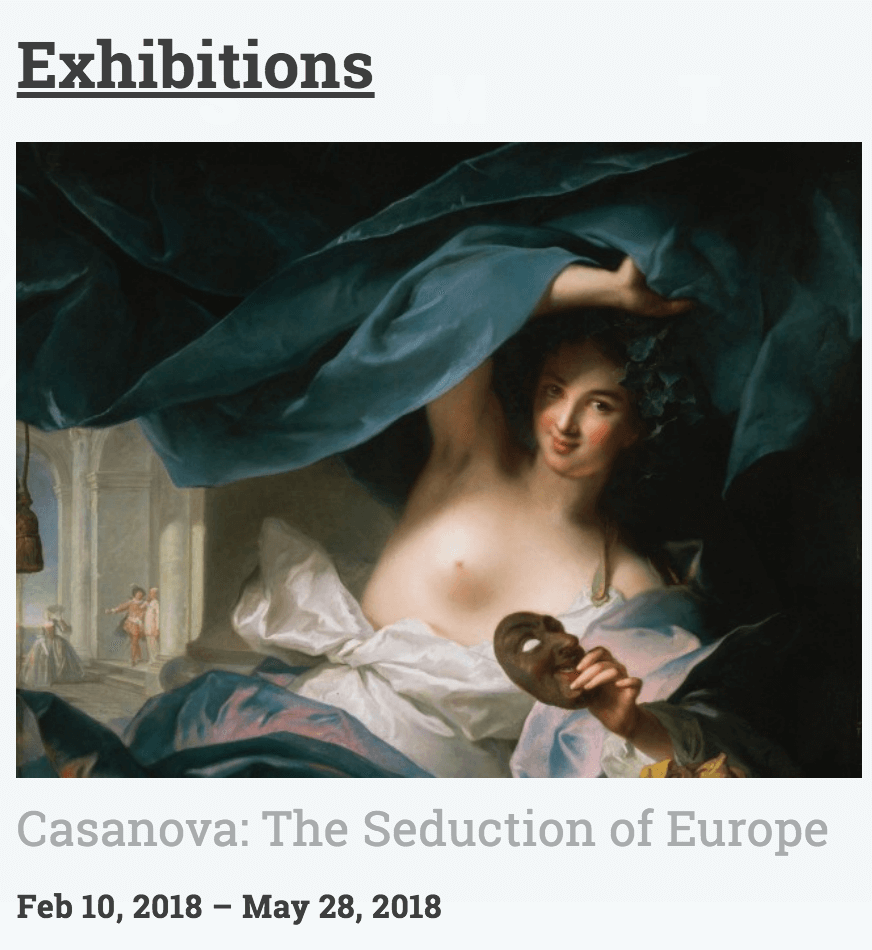 Casanova: The Seduction of Europe, at San Francisco's Legion of Honor through May 28, 2018, is a remarkable installation conceived as a romp through 18th C. Venice, Paris, and London in the footsteps of Giacomo Casanova (Venice 1725 – 1798 Dux, Bohemia). A spectacular assemblage of paintings by Canaletto, Bernardo Belloto, Francesco Guardi, Francois Boucher, Jean-Honore Fragonard, William Hogarth, and many other artists of the period illustrate this sumptuous and colorful world. Casanova's 13 volume autobiography, Histoire de ma vie, has been described both as "one of the most authentic sources of …European social life in the 18th C." (Paul Zweig's The Adventurer, 1974), and "a classic of erotic literature" (the online Art Directory). Casanova himself was a well educated intellectual, brilliant writer, scoundrel, hedonist of the first order – and a very popular dinner guest when not in prison or exile.
Though the large, engrossing and, in many instances jaw-dropping, pictures dominate, this exhibit marshals a collection of sumptuous furnishings and trappings, clothing and tableware, set within large black and white drawings illustrating the lavish interiors inhabited by these objects, to create an immersive experience following the narrative of Casanova's adventures. After it closes at The Legion of Honor, the exhibit will move on to the Boston Museum of Fine Art (July 8 – October 8, 2018) with the somewhat drier title Casanova's Europe: Art, Pleasure and Power in the 18th Century.
We much enjoyed Carol Porter's docent lecture Taking the Grand Tour with Casanova on April 3. Don't miss the Legion's engaging and very informative "Digital Story", narrated by Virginia Brilliant, the new Curator-in-Charge of European Art, a beautifully illustrated multimedia introduction which captures much of the exhibit's complex and appealing story.