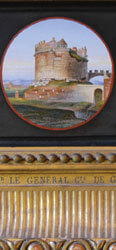 Tomb of Caecilia Metella Micromosaic, Rome
Glass micromosaic inset on Belgian black marble
4″ diameter micromosaic rondel, 13″ x 16″ giltwood frame, 1860
Vatican Mosaic Workshop
Exhibition
SFO Airport Museum, All Roads Lead to Rome: 17th-19th Century Souvenirs from the Collection of Piraneseum, January 24-August 13, 2017
The art of micromosaics began as a Byzantine phenomenon which, in 1576, was embraced by the Catholic Church with the formation in Rome of the Vatican Mosaic Studio. Still, it was not until the late 18th century that micromosaic pictures became a staple souvenir of the Grand Tour.
Across the 19th century, there were many makers, predominantly Roman, of these mementos. Standards and abilities varied widely, with the best micromosaics being assembled from literally thousands of tesserae, colored glass tiles so small that they are difficult to see except under magnification.
This view of the famed tomb of Caecilia Metella, on Rome's Appian Way, is an example of micromosaic craft at a very high level.
In addition to the fine mosaicwork, ringed by antique red marble and set into a slab of Belgian black marble, the picture retains its original giltwood frame. Written on the frame, below the picture is "Don de Mr. Le General Cte. De Goyon 1860." This remarkable object was given, at the time of the French occupation of Rome, to the French General of the occupying forces, the Count of Goyon.