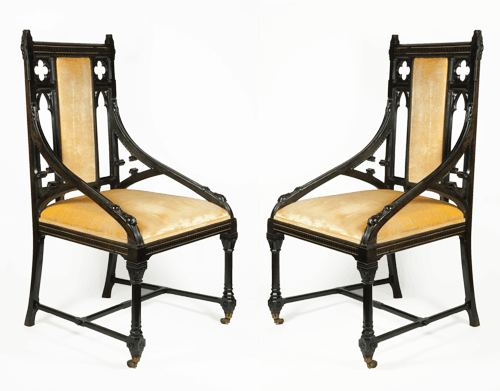 Gothic Chairs, pair
carved ebony with ivory inlay
42″ h x 22″ x 22″, 1862
John Pollard Seddon (1827 – 1906)
"I remember quite vividly one day coming across a gorgeous ebony armchair designed by John Pollard Seddon in the mid-1860's. Now Seddon was the scion of a family of royal Windsor furniture designers, and his items blended Gothic imagery with the simple forms emerging in the Edwardian period. They are very, very important pieces, as anyone in this field of antique furniture will tell you and at auction would easily bring tens of thousands of dollars."

Interview with Myles Connor in Stealing Rembrandts. Connor, a famed art thief, is occasionally tied to the notorious theft from the Isabella Steward Gardner Museum. His alibi? He was in federal prison the night of the heist.
This highly-realized pair of ivory inlaid ebony chairs, an apogee of the English Gothic Revival, was designed by architect John Pollard Seddon (1827 – 1906). A nearly identical pair was exhibited in William Morris & Co's installation at London's International Exhibition in 1862, (see image), which included furnishings and decoration designed and crafted by the period's leading artists and designers, including Dante Gabriel Rosetti, Edward Burne-Jones, and Philip Webb.
Other examples, In English oak, were carried out to a similar design. Those in the much more costly ebony, though, are scarce and especially fine, and may have been commissioned work.
With their design and craft, their rich history associated with the leading lights of English Arts and Crafts, it is easy to understand these chairs' appeal, both for those of us who might include them in our homes, and those who might remove them, in the middle of the night.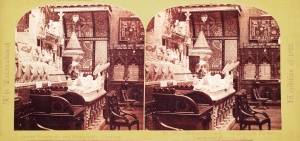 View of the Gothic Court at the 1862 International Exhibition, in London's South Kensington, on the site of the current National History Museum. Partially visible in the lower left is a chair nearly identical to those offered, which was shown in the display of William Morris & Co.. The chair seen lower center is a variation of this design, produced by the same firm.