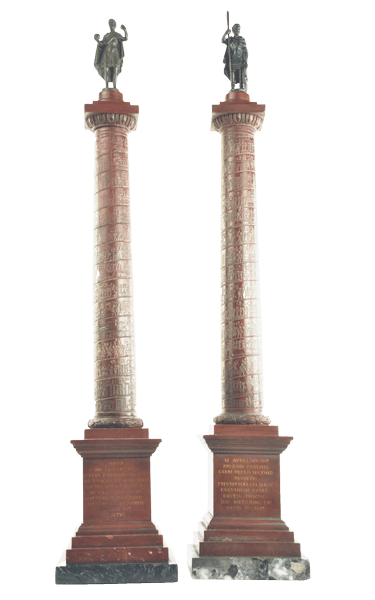 Trajan's and Antonine Columns, Rome
rosso and verde antico marble, bronze figures
20″ h., ca. 1820
The triumphal Columns of Trajan and Marcus Aurelius, erected in Rome in 113 and by 193 AD respectively, have long been subjects of pictures and models of the Eternal City; prints of these monuments appear in the 17th century. Models came later – an especially splendid example is a large, ornate, 1779 replica of Trajan's column made by Luigi Valadier, who led Rome's foremost decorative arts workshop.
The offered pair of monuments is fashioned in rosso antico, an antique red marble imported to Rome in the time of Augustus. Over the course of the 19th century, models of these Columns were made in a variety of materials, including the range of marbles, alabasters, and bronzes. That this pair appears in rosso allows us to date their manufacture to the first part of the 19th century; the fact that the marble elements comprising these miniatures are solid rather than veneered suggests they were made 1820 – 1830.
These are especially carefully carved examples. Note the precision of the egg-and-dart molding (below the upper platform), the figures in the spiraling decoration of the shaft, and Latin texts at the bases.
Both are topped by cast bronze figures, Trajan holding the orb and Marcus Aurelius holding his shield.  Both miniatures are supported on shallow plinths of verde antico marble, another ancient Roman stone.
In wonderfully original condition.