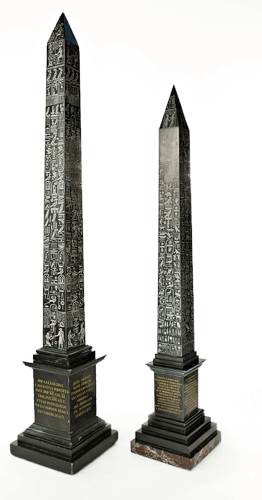 Solar Obelisk and Lateran Obelisk, Rome
nero and variegated marble
35-1/2″ and 30″ h. , ca. 1850
Literature
SFO Airport Museum, All Roads Lead to Rome, (2017), illus. pp. 40-1.
Exhibition
SFO Airport Museum, All Roads Lead to Rome: 17th-19th Century Souvenirs from the Collection of Piraneseum, January 24-August 13, 2017
Two impressively-sized, exceptionally carefully detailed, nero antico marble models of Rome's Solar and Lateran Obelisks. Note, especially, the painstaking engraving of each obelisk's hieroglyphics – differing from face to face – as well as the gold paste-filled Latin text to all four sides of each base. (A note to collectors – texts and hieroglyphics differing from side to side of these 19th century models of obelisks almost always indicates superior quality.)
There are, as we've noted elsewhere, more ancient Egyptian obelisks in Rome than in Egypt. The Solar Obelisk, a.k.a. Obelisk of Montecitorio, was brought to Rome from Heliopolis by Augustus in 10 B.C. It was originally installed as the marker or gnomen in a giant sundial in the Campus Martius, oriented to cast a shadow on the nearby Ara Pacis on September 23, Augustus' birthday and the autumnal equinox. The Lateran Obelisk, at 150 feet tall the largest standing Egyptian obelisk, arrived in Rome 367 years later and was first installed in the Circus Maximus.
The stone beneath the architectural base of the Solar Obelisk is, like the model, nero antico marble. This stone, quarried in ancient Laconia on the Greek Peleponnese peninsula, and brought to Rome in the time of Augustus, originally formed part of the fabric of Rome, and later, part of the city's ruin. By the mid-19th century, it was re-made as a souvenir.
The marble supporting the Lateran Obelisk, also undoubtedly antique, is as yet unidentified.