Rouen Cathedral Clock
clock case by bavozet frères et soeur
clock works by breguet a paris, ca. 1835 fire-gilded bronze 20″ high
Occasionally, we come across an object which, with application of sufficient research, gives up greater secrets than we would have imagined. With this remarkable early 19th century, gilded bronze, French cathedral clock, we hoped to suss out something of the makers and dates of production. Yet, thanks to some very meticulous record-keeping nearly two hundred years ago, we were able to go further.
The fire-gilded bronze case represents the south façade (called the Portail de la Calende) of Rouen Cathedral, rather than the more familiar west front, which because of its proportions and asymmetries may have been thought an unsuitable model. This case was made in Paris by Bavozet Frères et Soeur, and is an exacting miniature. Hans Ottomeyer and Peter Proschel's 1986 Vergoldete Bronzen pictures Bavozet Frères' gilt bronze clock case in the form of Rheims Cathedral, which it dates to 1835. The caption describes an 1837 issue of the Almanach du Commerce, which mentions the firm's other clock cases, in the forms of the cathedrals of Notre Dame de Paris and Rouen.
A leading Paris maker, Bavozet Freres et Soeur, began business by 1823 and cast these sorts of models until at least 1847. At the 1834 'Exposition des Produits de l'Industrie Francaise', the firm exhibited gilded bronze miniatures of the façades of both Rheims Cathedral and of Rouen Cathedral. Bavozet later made miniatures of Notre Dame de Paris, as well as another of Rheims, at a larger scale.
The fire-gilding process, with which these models were finished, involved coating the finished bronze casting with an amalgam of mercury and gold, then applying a torch, which caused the mercury to vaporize, leaving behind a thin gilt layer. The airborne mercury, of course, was terrifically toxic, sufficiently so that this method of gilding was banned in France, beginning in the 1830's.
With this clock, it is the works rather than the case that offers the most compelling history. Engraved across their back, in a flourishing script, is "Breguet à Paris. No. 242". The firm was founded in 1775 by Abraham-Louis Breguet who, in many ways, may be thought the inventor of the modern watch, as well as the pre-eminent horologist of his time. The 2009 exhibition, Breguet at the Louvre: An Apogee of European Horology, featured the range of the firm's innovative, exquisite work, including watches, clocks, and chronometers
The firm kept meticulous records. Their April 4, 1835, entry for Clock 242 provides many of the particulars, including verification that the case originated with Bavozet. Also interesting is mention of the "Mouvement à sonnerre avec ressort-timbre, Lenoir. The Parisian Lenoir firm, then located like Breguet on Quai d'Horloge, was begun by Etienne Lenoir, famed engineer and instrument maker, who participated in establishing a verifiable length for the meter.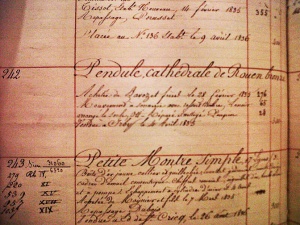 Breguet's 1835 description shows the clock sold to IRBY. Collins and Buydge's 1812 Peerage includes a section titled, "The family of IRBY is of great antiquity, and were lords of Irby or Ireby, near Wainfleet, in the county of Lincoln (The family was granted lands after assisting at the Battle of Hastings, in 1066)."
The Irbys seem to have been travelers and collectors. The first Baron Boston, William Irby, carted home from Italy a couple of swell Canalettos. George Irby and son George Ives Irby, Barons three and four, were both of ages making possible the purchase of splendid, expensive, gilded bronze Parisian clock in 1835. George Ives, who would have been 32 at the time, and who eventually oversaw the rebuilding of the family home, Hedson House, in Buckinghamshire, may be the more likely possibility.
This is a lot of history for a little clock, and some of this is speculation. However, more so than with other old architectural models, we've an idea through whose hands this memento has passed, on its nearly two century long journey from Paris to California.