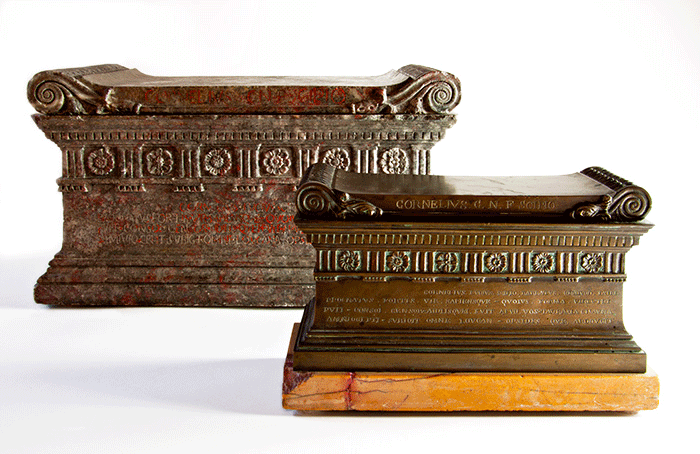 Tombs of Scipio, Rome
africano marble and patinated bronze
8″ and 5-1/2″ h., ca. 1860
Literature
SFO Airport Museum, All Roads Lead to Rome, (2017), illus. p. 21.
Exhibitions
SFO Airport Museum, Grand Miniatures: 19th Century Souvenir Buildings from the Collection of Ace Architects, December 2010-May 2011.
SFO Airport Museum, All Roads Lead to Rome: 17th-19th Century Souvenirs from the Collection of Piraneseum, January 24-August 13, 2017
There is an old, not especially funny, joke beginning with the question "Who is buried in Grant's Tomb? The question "Who is buried in Scipio's Tome?" is an altogether different inquiry, just as lacking humor-wise, and requiring some brief history for there were several Scipios.
Though called the Tomb of Scipio, this is, in fact, a model of the sarcophagus of Lucius Cornelius Scipio Barbatus, the first of thirty Scipios to be interred in the sprawling 'Tomb of the Scipios' along the Appian Way, after his death in 280 B.C. The Tomb complex was rediscovered in 1780, and Cornelius' sarcophagus the only one remaining intact, was later moved to the Vatican Museum. It must have proved an intriguing object for soon thereafter, production of models began apace.
"The Scipios' tomb contains no ashes now, for they have been removed to various museums; the most celebrated being that of which there are many models, sold in shops. It is the sarcophagus in peperino stone, in which lay the ashes of Lucius Scipio Barbatus, and which is now in the Vatican. Of all the monuments of ancient Rome this is the one which is more frequently produced in marble or bronze than any other except perhaps the Temple of Vesta."

Rome and its Ruins (1866).
In thirty years of searching out Grand Tour souvenirs, we've encountered scores of bronze models of the Temple of Vesta, perhaps two dozen splendid replicas of Cornelius' sarcophagus in various kinds of marble, and precisely one, the memento on offer, in bronze. As we've asked elsewhere – What happened to the missing bronze miniatures? Melted down, and re-worked as an automobile part? Much as ancient Roman bronze statuary, eventually transformed into tourists' baubles?
This very finely made bauble operates as a triple inkwell, its hinged lid opening to reveal several inkpots. At it's front, the model is accurately stamped with the Latin text appearing on this Scipio's sarcophagus. This object's robust, idiosyncratic architectural ornament is also precisely rendered with its miniature.
While we've seen models of 'Scipio's Tomb' fashioned from the range of antique Roman marbles, and even alabaster, we've not before seen the subject rendered in bronze.
Who is buried in Scipio's Tomb. Today, no one.
Losses at two corners of the bronze, inkpots missing.