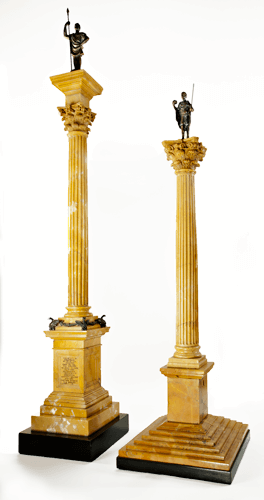 Marian Column and Column of Phocas, Rome
giallo and nero marble, patinated bronze
34″ and 27″ h., ca. 1860
Exhibition
SFO Airport Museum, All Roads Lead to Rome: 17th-19th Century Souvenirs from the Collection of Piraneseum, January 24-August 13, 2017 (Marian Column).
Despite the abundance of must-see ancient Roman monuments, only a relative few were made as miniature mementos – Trajan's Column, the Pantheon, the ruins of the Temples of Vespasian and Castor & Pollux, the Temple of Vesta (Hercules Victor), the Arches (Constantine, Septimius Severus, Janus and Titus), several obelisks, an occasional Colosseum and Pyramid of Caius Cestius, and the list begins to run out. Why were (are) there no souvenir Grand Tour models of the Eternal City's other compelling antique places? Where are the replicas of Castel Sant'Angelo and the Baths of Caracalla, the Circus Maxiumus and Piazza Navona, the Basilica of Maxentius?
Offered here, separately, are two unlikely mid-19th century souvenir models of comparatively unprepossessing Roman landmarks – the Baroque-era Marian Column, adjacent to Santa Maria Maggiore, and the ca. 600 A.D. Column of Phocas, the final addition to the Forum. Both are very well-made, doubtlessly in the same studios which carved much more familiar replicas. With both, note the subtle entasis of the column shaft, skilled modeling of the capitals, and detailed bronze work.
Interestingly, the model of the Marian Column is topped by some Caesar or other, rather than by Mary, to whom the monument has always been dedicated. Ten years after Phocas' landmark was scrabbled together from spare parts, the emperor (the last of his line) was killed, his parts dispersed. If this desultory monument and its model jog our imagination, it is not towards the glory of the Eternal City, but in the direction of its end.
Interestingly, while 19th century replicas of the Marian Column are scarce (this is the only example we've encountered at this impressive size), models of Phocas' Column, despite its literally anti-climatic status – are relatively abundant – a perhaps not so unusual example of popularity untethered from memory.