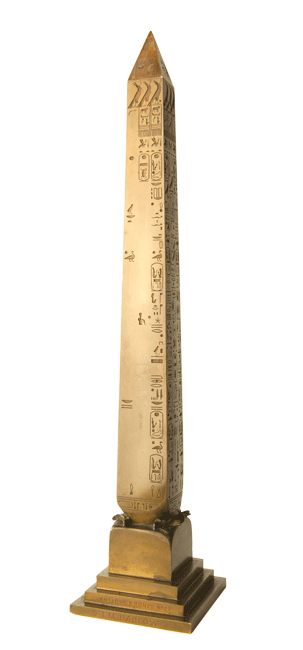 Cleopatra's Needle, New York
Patinated Bronze
15″ H., CA. 1881
Tiffany & Co.
In 1879, under the sponsorship of business mogul William Vanderbilt, naval engineer Henry Gorringe set sail for Alexandria, Egypt, to retrieve the ancient Obelisk of Thutmose III (soon to be called Cleopatra's Needle) and bring the 200 ton monument to New York.
On January 22, 1881, the Needle was erected in Central Park, where it stands today. To commemorate the undertaking, Gorringe commissioned from Tiffany a small number of bronze models of the Obelisk, which were distributed to colleagues as well as those who had supported the undertaking. This very highly-realized model was presented to Samuel L. M. Barlow, lawyer/tycoon/political intriguer and almost certainly an acquaintance of Vanderbilt.
The Barlow Cleopatra's Needle offered here was formerly in the collection of the National Arts Club, New York City.