Cleopatra's Needle, London
patinated and gilded bronze
44″ h., 1879
Joseph Whitley
With the British Royal Navy's victory over the French in the 1798 Battle of the Nile, Egypt regained a measure of autonomy (and France's aspirations to control the Mediterranean and England's colony, India, were dealt a blow).
The great victory raised the expectation of a great gift. (The commander of the British fleet, Lord Nelson, was famously dissatisfied with his honors and more tangible rewards.) In 1819, Egypt presented Britain with the 69-foot tall, red Aswan granite obelisk, originally erected by Thutmose III at Heliopolis, in about 1450 BC. In 12 BC, Roman Emperor Augustus ordered the obelisk (and its twin, which eventually found its way to New York's Central Park) moved down the Nile to Alexandria.
It was only in 1877, nearly 60 years after the gift had been given, that England came to retrieve the 224 ton token. A harrowing sea journey ensued, lives were lost, the obelisk thought sunk to the bottom; but on September 12, 1878, Thutmose's obelisk (unconnected, incidentally, in any way, with Cleopatra) was pivoted into place along London's Thames Embankment.
Months earlier, a new, Egyptian Revival Style, bronze base had been fashioned to receive the great monument. This pedestal contains two 15" diameter earthenware cylinders in which are sealed two 12" diameter, earthenware jars – time capsules containing period mementos. According to an 1878 issue of United Methodist Church, the contents included –
Standard foot and point, presented by the Standard Department of the Board of Trade; bronze model of the obelisk, ½ in. scale to the foot, cast and presented by Mr. Joseph Whitley, of Leeds; copies of Engineering printed on vellum, with plans of the various arrangements and details employed in erecting and transporting the obelisk, together with its complete history, presented by the proprietors of the publication; jars of Doulton ware, presented by Doulton & Co.; a piece of the obelisk stone; complete set of British coinage, including an Empress of India rupee; parchment copy of Dr. Birch's translation of the obelisk hieroglyphics; standard gauge to 1000th part of an inch as sample of accurate workmanship; portrait of the Queen; Bibles in various languages, presented by the British and Foreign Bible Society; Bradshaw's Railway Guide; Mappin's shilling razor; case of cigars; pipes; box of hair pins and sundry articles of female adornment; Alexandra feeding-bottle and children's toys, presented by a lady; a Tangye's hydraulic jack as used in raising the obelisk; wire ropes and specimens of submarine cables; copies of the daily and illustrated papers; photographs of a dozen pretty Englishwomen, painted by Captain Henry Carter; a 2 foot rule; a London Directory, Whitaker's Almanac.
This list's second item – the model cast by Whitley – was one, it appears, of at least 16 cast by the Leeds based founder. Engineering (1879) described it this way, "an exquisitely made model in bronze of the obelisk, encased for protective purposes in lead. This model is hollow, the opening in the bottom being closed with a screwed plug. In the model are placed drawings of the hieroglyphics and their translation, on vellum;…"
Other of these models were presented to various Societies, often by Whitley himself, including the Leeds Philosophical and Literary Society in 1881, and Philosophical Society of Glasgow in 1884. The offered model was formerly in the collection of the National Arts Club in New York City.
While all of these models are essentially identical, there are subtle variations. The bases of some models are unengraved, others are quite elaborate. Ours sports the monument's name and scale, front and center in a fancy Gothic typeface, as well as less conspicuously recording its maker and date (1879). Inside the base, cast rather than engraved, is, again, the maker's name, and "Leeds 1881." What accounts for the differing dates inside and out? Perhaps models were cast in anticipation of an 1881 presentation, and engraved only as they were given to various organizations. Perhaps there was a second edition.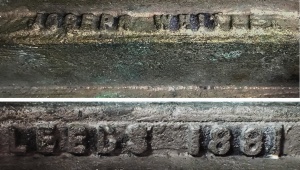 That inventory of the time capsule also mentions a "portrait of the Queen." Unmentioned is the author of this portrait – Louis Aime Augustin Le Prince (1841 – vanished 1890), Whitley's brother-in-law and, say many, the inventor of motion pictures. Le Prince, a part owner of the Whitley firm after 1868, may have been involved  in the production of the obelisk.
Additionally, we've located another model, less finished than the other – perhaps a part of the mold patterns – accompanied by a book – On the Antique Painting in Encaustic of Cleopatra (1885) – inscribed to Le Prince by John Sartain (1808-1897) on September 20th, 1886. Sartain, a pioneer with mezzotint printing in Philadelphia, would have met Le Prince during his visit there beginning in 1881. He returned to Leeds in 1887, shot the world's first motion picture in 1888, in Whitley's garden, then, famously, disappeared. On September 16, 1890, Le Prince boarded the Dijon-Paris train. The train arrived without him; dark theories circulated.