Arc de Triomphe – Paris
patinated bronze, marble
11″ h., c. 1875, box
7500
By the 1870's, the Parisian trade in
architectural souvenirs had come to be
dominated by a single firm – Freres
LeBlanc, which turned out high quality,
cast bronze models of several of the city's
landmarks, including the Colonnes de
Juillet and Vendome, Luxor Obelisk, and
the present Arc de Triomphe (almost
always made, as seen here, as a with lid.
All are finished alike, with a very dark
green patina.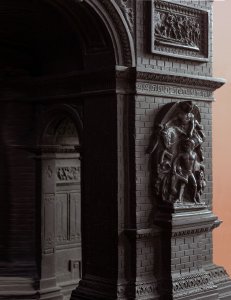 The Arc was designed to echo Rome's Arch
of Titus, just as the Colonne Vendome was
modelled on Trajan's Column.
This highly-rendered, c. 1875 model is one of
the larger castings.