A House or A Museum? Piraneseum video by Curbed.com
January 21, 2018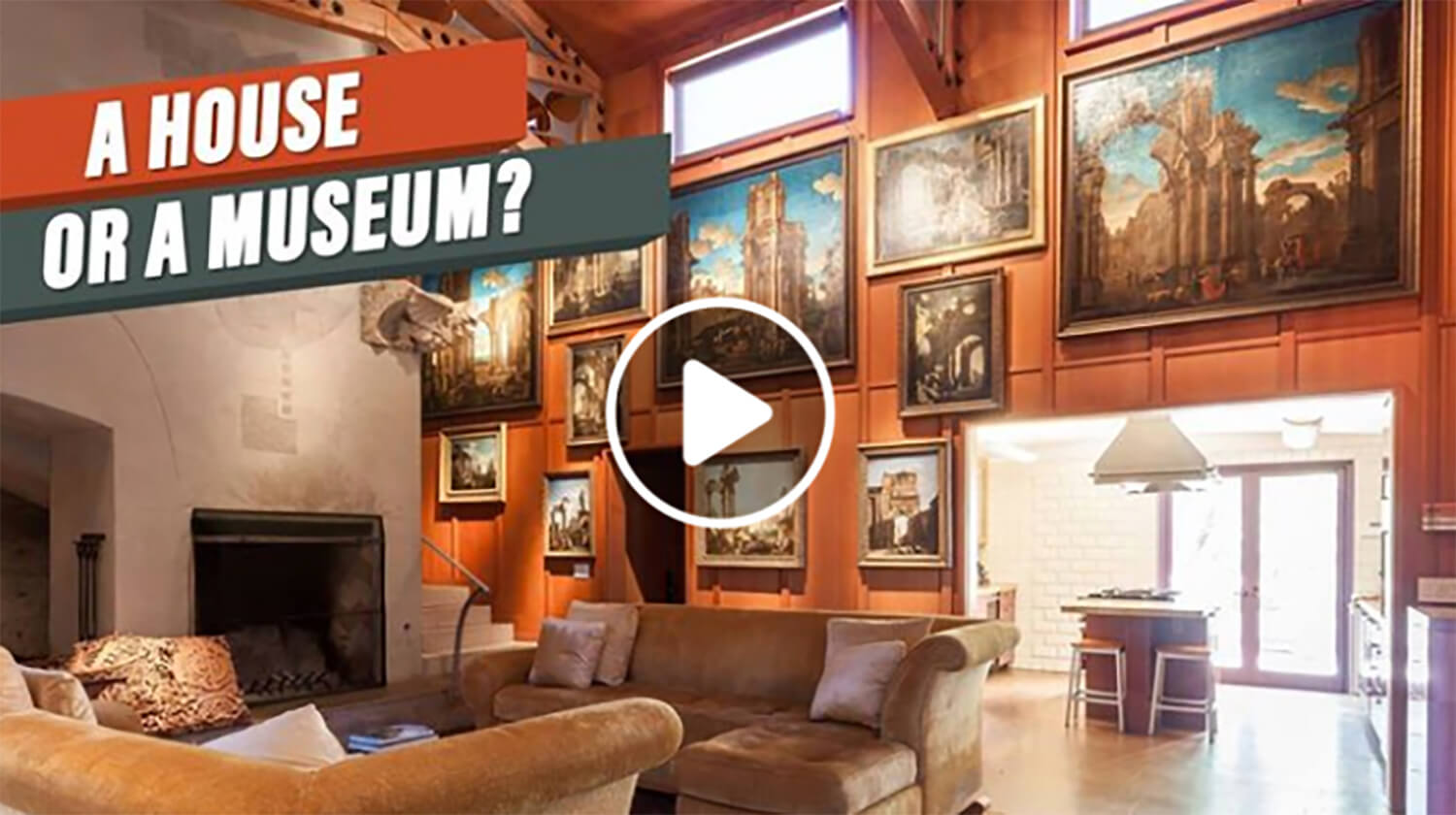 Two years ago, Curbed, the multi-city Amercian blog featuring "all things home" posted A Pair of Architects Create a Home for their Grand Collection, an extensively-photographed, well-written description of our assemblage of 17th – 19th century architectural souvenirs.
Late last year, Curbed was again in touch, proposing a short video about the collection. A day of shooting and later extensive editing yielded A House or a Museum?, seen, as of today, by over 478,000 people, liked by 2.9 thousand, shared by 1.2 thousand, with 246 comments – some formidable metrics for objects so long out of favor.
A Re-discovered 17th c. Capriccio By Giovanni Ghisolfi is Identified and Conserved by Piraneseum
January 6, 2018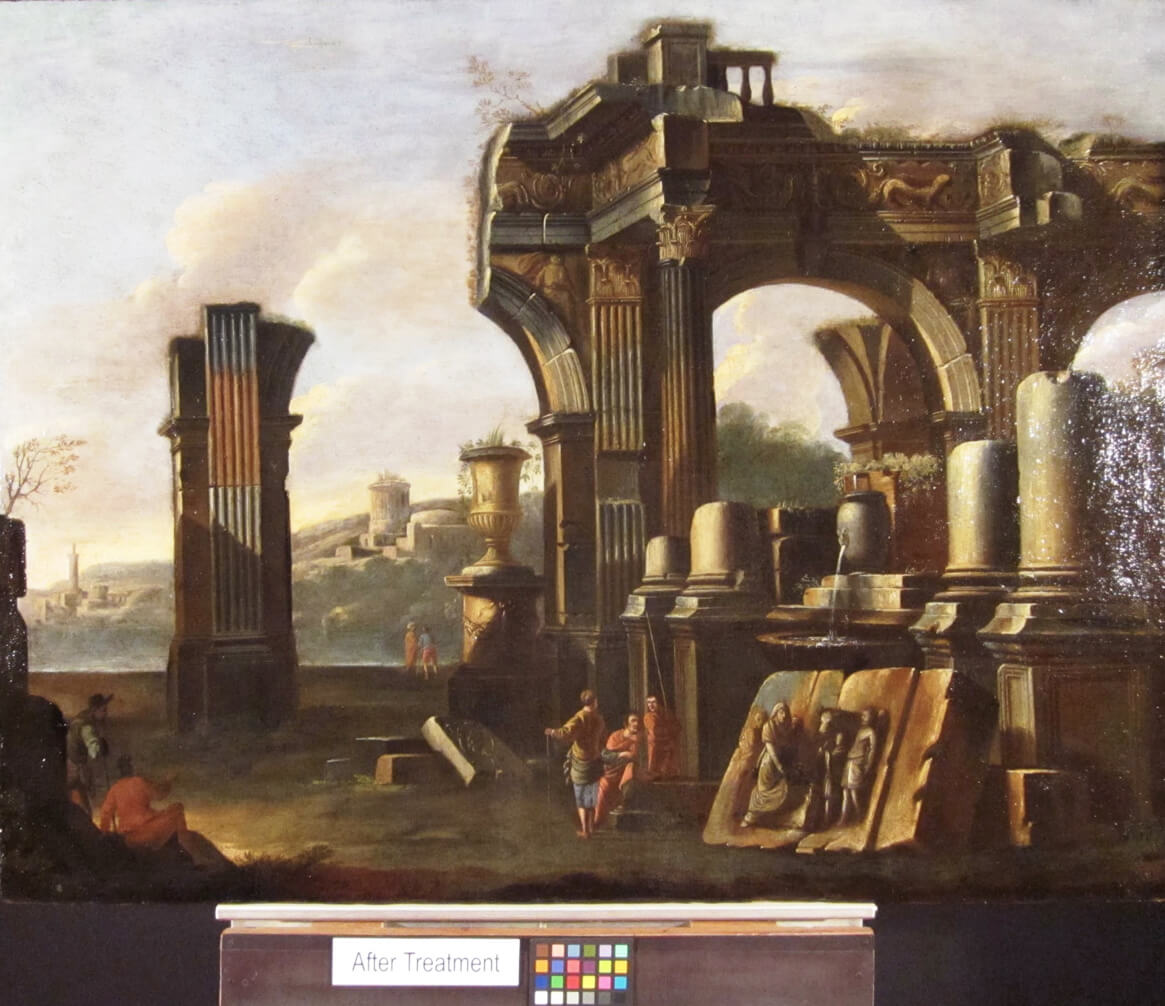 A year ago, in an out of the way German sale, we became intrigued with an old,  darkened, architectural canvas. Peering through the cloudy, yellowed, cigar smoke-scented varnish, we thought we made out several elements characteristic of the later 17th century Roman ruins painter Giovanni Ghisolfi (Milan 1623 – 1683) (fig. 1). Telltale signs, in addition to the picture's skewed perspective, included skillful light to dark shading of cylindrical column shafts, a complex decorative frieze, a diminutive spout of water into a semi-circular basin, as well as figures derived from Ghisolfi's friend and occasional collaborator, the famed, occasionally infamous, Salvator Rosa.
Pulling in another direction was a handwritten label to the reverse, ascribing the work to "Giampolo Panini – Rome 1695 – 1768"; as well as noting a prior owner (fig. 2). Panini, of course, is today considered the great master of capriccio painting, and his pictures may realize significant sums at auction. In Art History, as elsewhere, things change; and in the 19th century, among some historians, Panini was counted little more than an imitator of, you guessed it, Ghisolfi. This likely accounts for the confusion with this picture's authorship, something, as we'll see, which continues today.
It is safe to say that, without Ghisolfi, Panini's work would have been very much different. The younger artist carefully studied (and selectively appropriated) the older man's work; and there are extant Panini drawings copying Ghisolfi's capricci.
Subsequent conservation has literally brought to light a picture fully characteristic of Ghisolfi (fig. 3). And while confident of this attribution, we were pleased to see a very similar painting in Andrea Busiri Vici's 1992 Giovanni Ghisolfi: Un Pittore Milanese di Rovine Romane, titled by her Fantasia Architettonica Romana (fig. 4). Of this picture, now part of the collection of Denmark's National Historic Museum, where it is attributed to the even earlier capriccio painter Viviano Codazzi, Vici writes "A mio parere l'opera potrebbe essere di Ghisolfi." – In my opinion the work could be of Ghisolfi. We concur.
All Roads Lead to Rome – SFO Museum Exhibition of Architectural Mementos From Piraneseum's Collection
November 22, 2017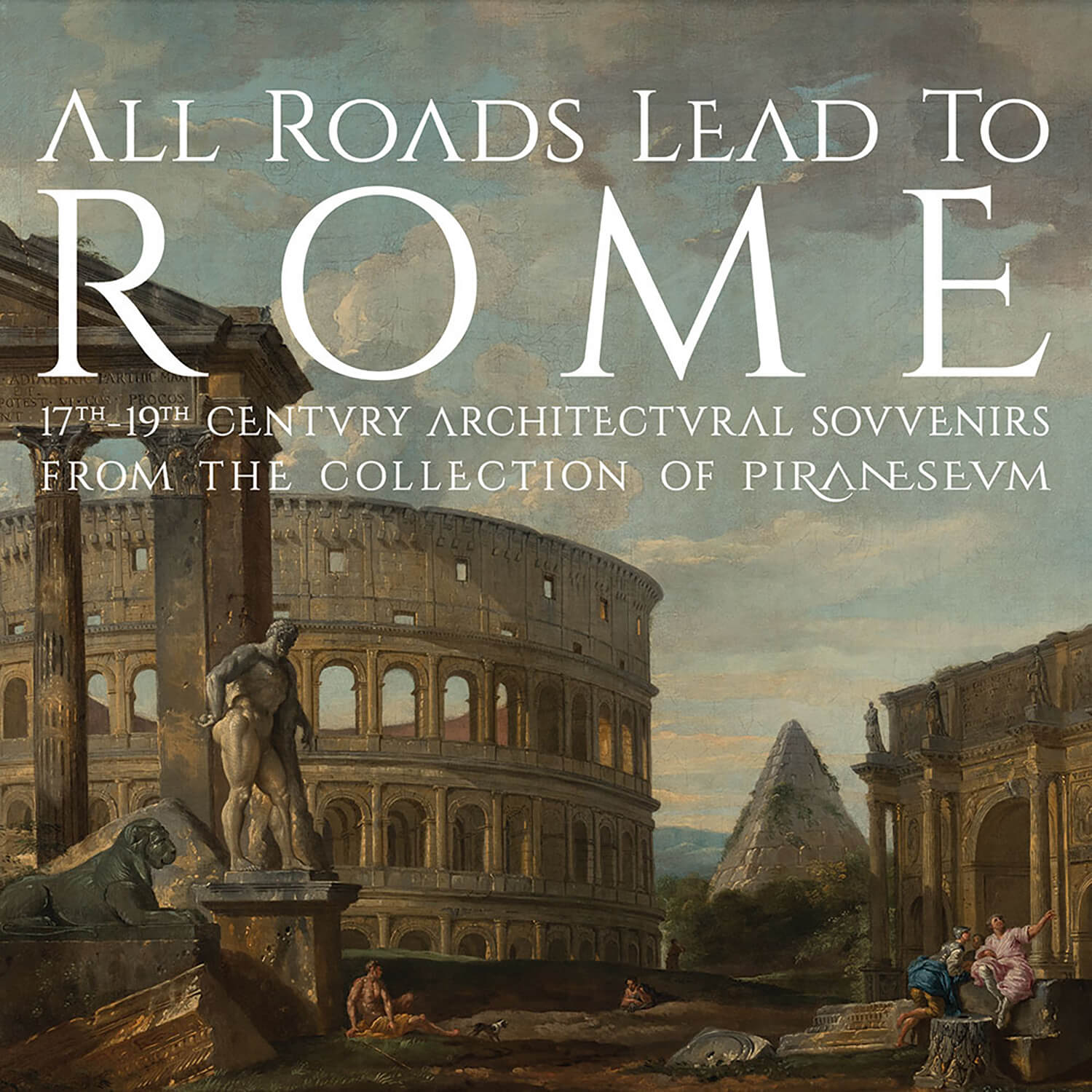 All Roads Lead to Rome
17th – 19th Century Architectural Souvenirs from the Collection of Piraneseum
SFO Museum, International Terminal
January – August, 2017
Among the abiding pleasures of our collection are the opportunities to share it with friends and acquaintances, as well as those we don't know, butwho may be intrigued. Over the past 25 years, we've loaned architectural souvenirs of all types to SFO Museum, including for four exhibitions at the Airport drawn solely from the collection.
The most recent of these – All Roads Lead to Rome – ran for seven months in 2017, in the Airport's International Terminal. Curated, designed, and installed by SFO Museum (the only accredited Museum operating at an airport), it was a spectacular show – the highlight in the now 40 year history of our collection.
In addition to the sumptuous installation, with backgrounds of monumental enlargements of a pair of Piranesi views of Roman roads, was SFO Museum's scrupulous curation of the wide range of objects. We were also flattered by the Museum's production of a very handsome and extensive exhibition catalog, beautifully photographed and highly-realized.
A further satisfaction came in the sheer number of people (estimated in the millions) who took in the show, on their way to and from distant destinations, including, of course, Rome.
Chrysler Museum Acquires Rare 19th C. Tabletop for its Celebrated Collection
May 5, 2017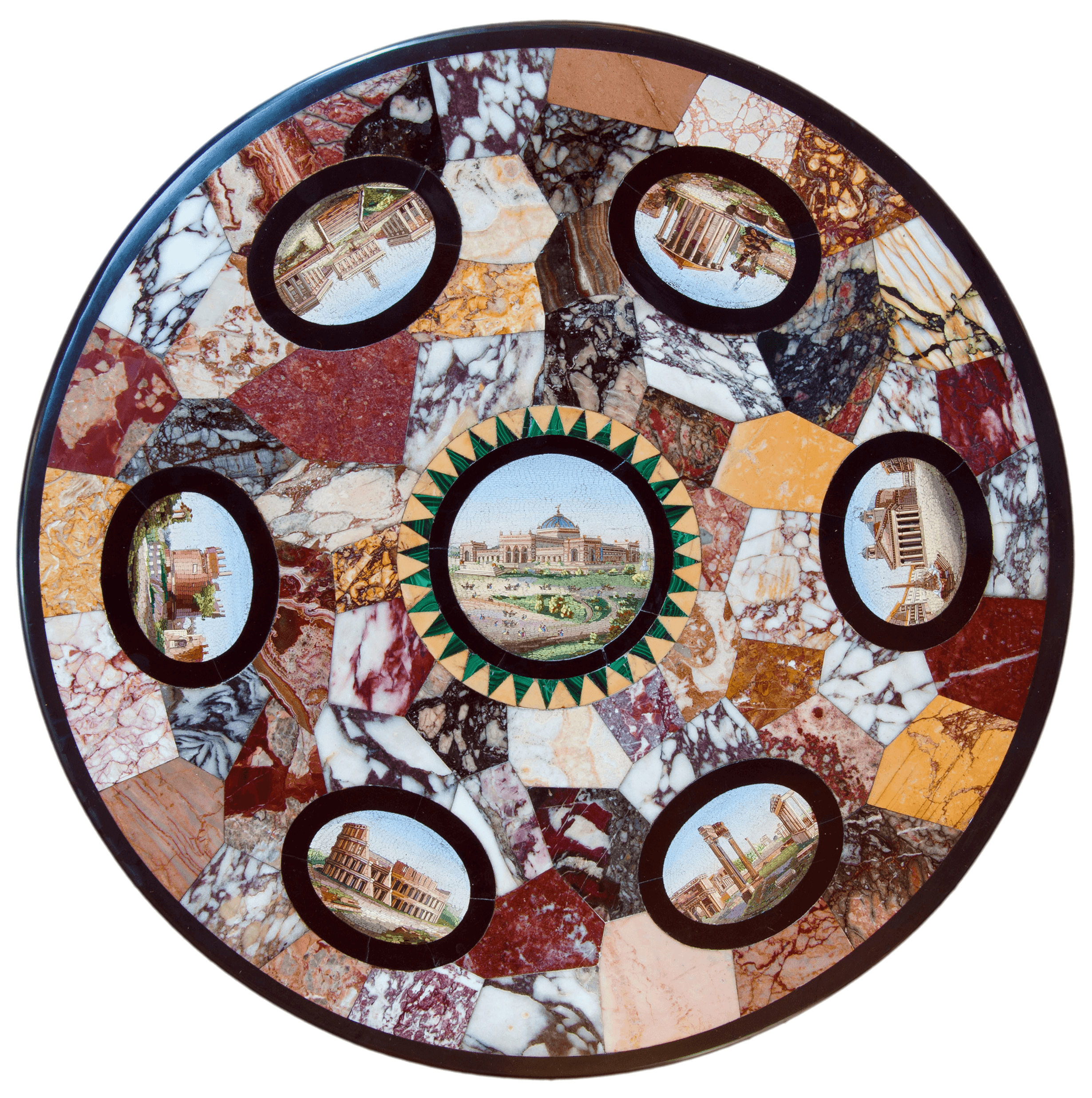 The Chrysler Museum of Art in Norfolk, Virginia, has just added Piraneseum's specimen marble and micromosaic table top to it's celebrated glass collection.
This highly unusual, 22-3/4" diameter Roman micromosaic and specimen marble tabletop was made in Rome for the 1876 U. S. Centennial Exhibition in Philadelphia. Surrounding a central micromosaic medallion bordered in green malachite and giallo antico marble are six oval micromosaic panels picturing Rome's most famous ancient monuments, including the Pantheon, Forum, Colosseum, Tomb of Cecilia Metella, Campidoglio, and Temple of Hercules.
It is the building pictured in micromosaic glass tesserae at the tabletop's center – Memorial Hall, from the 1876 Exhibition – that is the real surprise, and the only American subject we've seen rendered in 19th century Italian micromosaic work. Undoubtedly made in Rome just prior to 1876, the high quality of this tabletop – very fine mosaic work employing minute tesserae, more than a dozen varieties of precisely fitted antique specimen marbles, and elaborate cutting and fitting of semi-precious malachite around the central border – points to an especially talented maker. The Exhibition hosted three well-known, highly-skilled Roman micromosaic studios – Rocchegiani, Moglia, and Gallanett – and this tabletop was likely crafted by one of these workshops.
Vernet Drawing, Picturing Himself, Piranesi, and Clerrisseau Sketching at Hadrian's Villa, Highlights "All Roads Lead to Rome"
January 20, 2017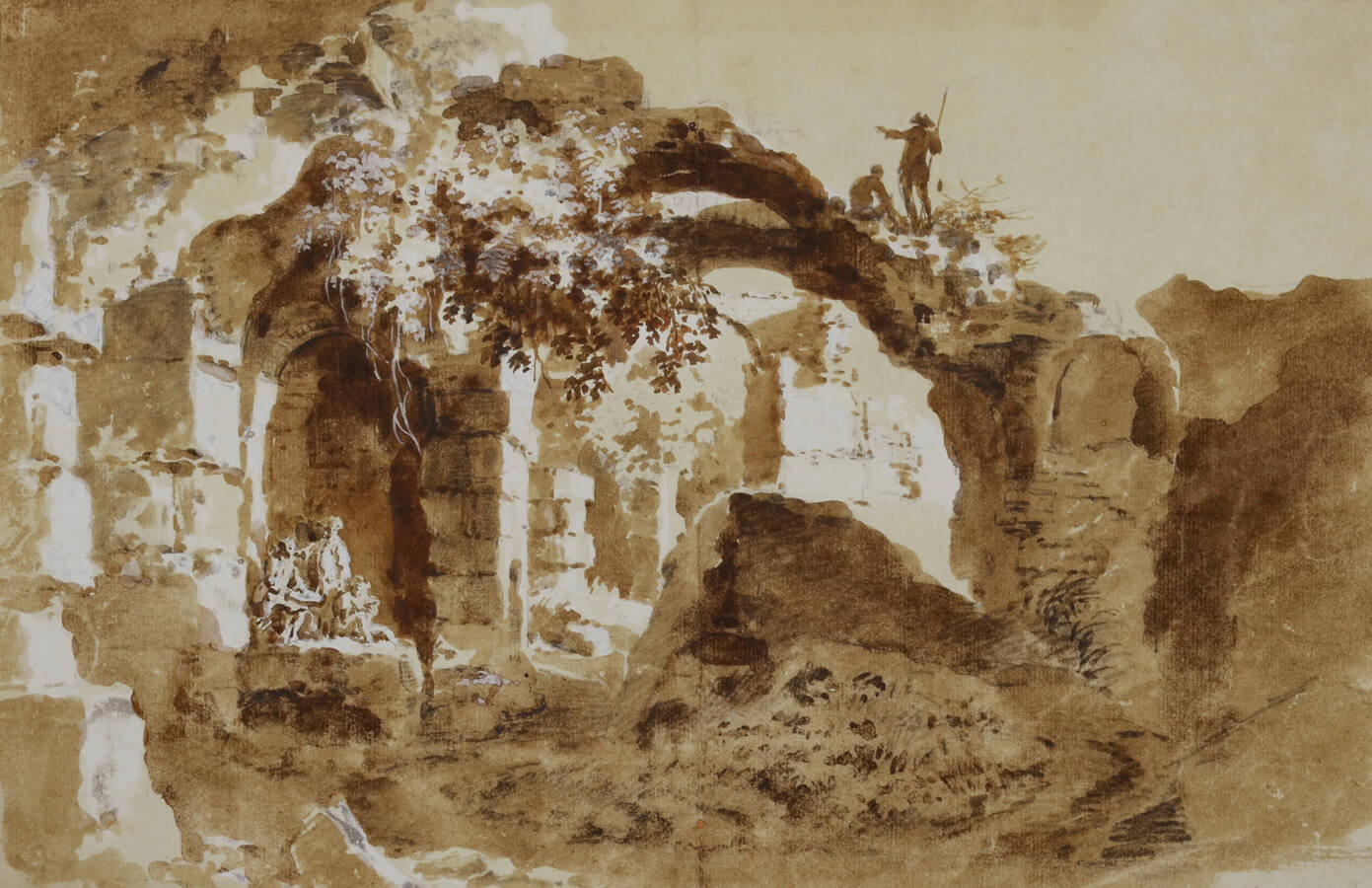 Claude-Joseph Vernet (1714-1789)
Artists Sketching at Hadrian's Villa
brown ink, wash, and body color on laid paper
24 x 35 cm., c. 1746

One of the most remarkable objects shown for the first time in Piraneseum's recent exhibit, All Roads Lead to Rome (January – August 2017, San Francisco International Terminal), was this drawing. Three of the 18th century's most highly regarded artists are recorded here together sketching, gathered within an arched niche.  Giovanni Battista Piranesi's (1720 – 1778) 1799 biography – Notice Historique sur la Vie st sur les Ouvrages de J. B. Piranesi, Architect, Peintre et Graveur – provides an account of the master's visit to Hadrian's Villa, a half century earlier, in the company of two French painters – Charles-Louis Clerisseau (1721 – 1820), then a young man frest to Rome, and Claude-Joseph Vernet (1714 – 1789), a bit older, and on the verge of being recalled to Paris by Louis XV, for a project that would distinguish him as one of the great landscape painters of the 18th century.
There were distractions that Spring day, according to biographer J. G. LeGrand. Before the artists could commence sketching, they had first to dispatch the local crowd of scorpions and snakes, for which they employed fire and an axe. (The story adds context to Piranesi's 1750 suite of Grotteschi, whose surfaces crawl with serpents and a scorpion, are congested with not quite desiccated human skeletal remains, architectural and sculptural bits and pieces and violated tombs, overrun by invasive vines, choked by fires and clouds of smoke – landscape tumbled down, pressed together over centuries – the rot of ancient civilization.)
A light fold runs down the center of this sheet, revealed somewhat thrillingly by a thin line of ink gathered to the bottom of the crease. Which is to say that Vernet, that bright Roman day in late Spring (note the abundant foliage), more than 250 years distant, folded his lovely ink drawing a few minutes before it was fully dry. Perhaps it was time for the band of artists to be on their way.
"Others may know better how to paint the sky, the earth, the ocean; no one knows better than I how to paint a picture," was Vernet's famous claim, once he'd returned to Paris, and met with serial successes. Today, of course, this sounds a boast, its tone something we expect from a prize fighter, not an artist. And yet, in the then hyperbolic context of French commentary on the Arts, Monsieur Vernet's words hardly overstep.
According to biographer Roger Conisbee, the figure of a solitary artist at work is common to Vernet's drawings. Does Vernet's drawing at Hadrian's Villa, record some singular memorable moment? There is some evidence.
The stance, posture, physical proportions, and dress of the standing Hadrian's Villa figure and Vernet in his 1749 painting, Garden of the Villa Ludovisi, are nearly identical, down to the just-so positioning of their tricorne hats (fig.2). The Hadrian's Villa figure is taller than his companions and in line with the stature suggested by Louise Elisabeth LeBrun's well known 1778 portrait of the artist.
At the standing figure's feet, a shorter man, also tricorne hatted (and thus presumably French), works away on a small drawing on his knee. His left hand holds a small palette, his right hand (again presumably) a brush. His rounded visage, and relative nimbleness – working while seated on the stone outcrop – suggest a younger man. In the Spring of 1752, a year before the 38 year old Vernet returned to Paris, Charles-Louis Clerisseau had been in Rome just three years, and was 32. A 1762 Angelica Kauffman sketch of the artist has him with a thick physique (like the figure in Vernet's drawing), grasping a drawing board in his left hand, leaving his brush hand free.
Vernet and Clerisseau were, at the same time, pensionnaires at the French Academy in Rome. Whilst Clerisseau was awarded the Prix de Rome in 1746, Vernet had been admitted only 'unofficially' (through an advocate's intervention), after arriving in Rome. Unlike Vernet, Clerisseau soon became a great friend of Piranesi, and by the 1750's the two made multiple visits to Hadrian's Villa. Accounts have Vernet and Clerisseau counted as friends, while Vernet and Piranesi were simply acquainted.
The left hand figure of our Hadrian's group sits on a rock, his head and gaze turned directly towards us, rather than the ruins occupying the two French artists. This figure is attired differently than his companions – no tricorne hat, though perhaps some sort of head wear, and he wears a coat cut quite differently from that of the standing figure. He's also drawn, unlike his companions, with dark, angular, approaching jagged, strokes, his body modeled in chiaroscuro. He holds a drawing board much larger than that of the seated figure, which he steadies with his left hand. There is no trace of a palette or brush, and we must imagine his right hand guiding a stick of black chalk. Of Piranesi's sketching method, scholar John Wilton-Ely writes of his usual working method "…his vigorous use of red chalk over a light initial sketch in black chalk emphasizes the tonal color…"
"Wilton-Ely notes, "Piranesi's close familiarity with the Villa dates back at least to the 1750's, when there are accounts of sketching expeditions made in the company of Robert Adam, Clerisseau, and Allan Ramsay." That Piranesi's eminent chronicler does not include Vernet in this group points in the direction of it being a one-off event. Aside from their prodigious talents, the two men held in common just their respective friendships with Clerisseau. Out of this awareness and an understanding that he was soon leaving for France, might Vernet have felt prompted to paint himself and his companions into the scene – a kind of mid-18th century Polaroid?
Unlike Clerisseau and Piranesi, Vernet seems not to have taken to Hadrian's Villa. We have located no references to other visits there, nor other drawings, nor any paintings. Perhaps it was the scorpions and snakes; perhaps it was Piranesi. Perhaps a matter of predilection. As Conisbee writes, "Vernet did not paint ancient ruins; except as an occasional landscape feature." Perhaps this is why he pictures himself not sketching.
Exhibition
SFO Airport Museum, All Roads Lead to Rome: 17th-19th Century Souvenirs from the Collection of Piraneseum, January 24-August 13, 2017
Piraneseum Ghisolfi Capriccio is Cover of Monumental New Work About Italian Ruins Paintings
May 5, 2015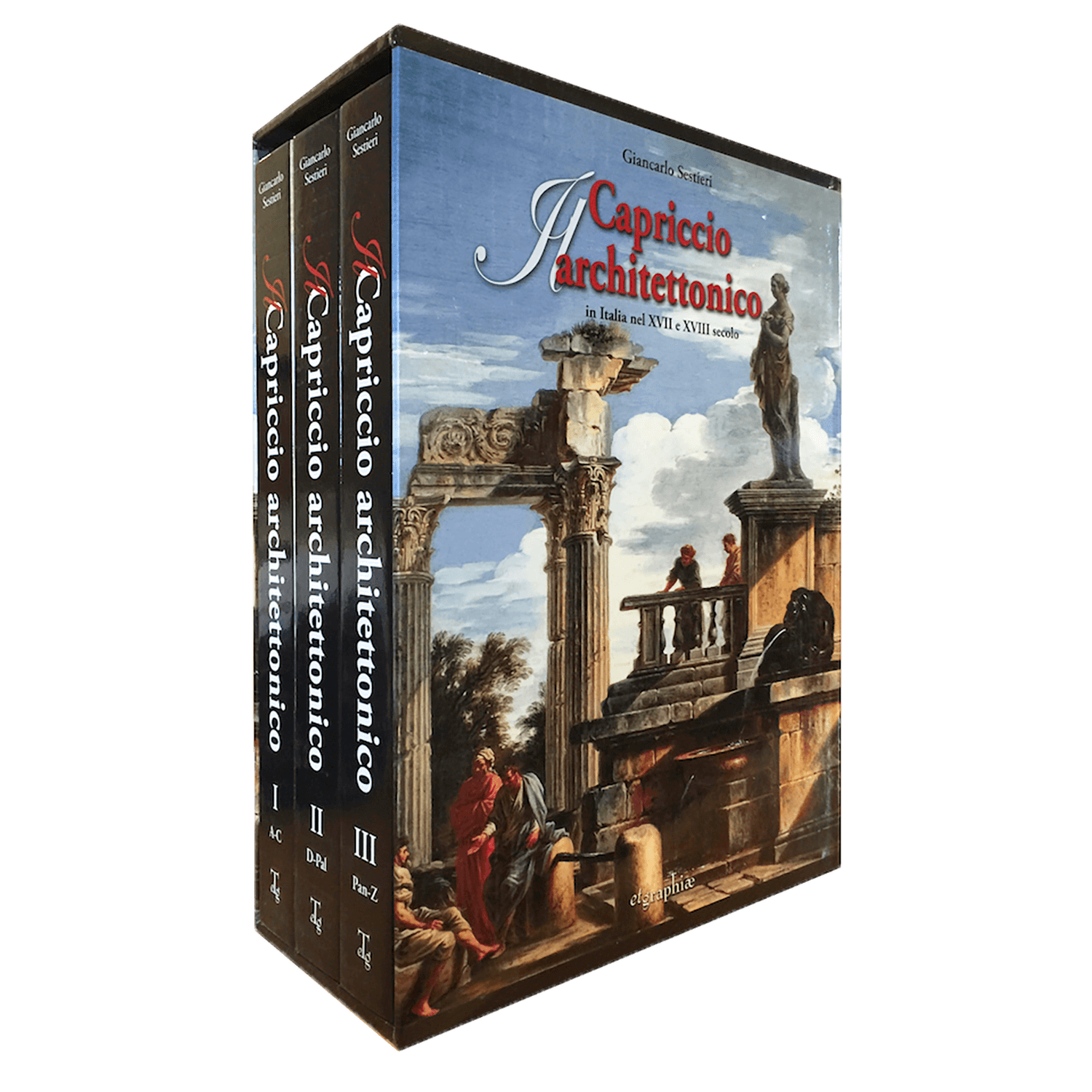 Giovanni Ghisolfi (Milan 1623 – 1683)
Capriccio with Figures among Roman Ruins
oil on canvas, 65 x 48.5 cm.
Historian Giancarlo Sestieri has just published the definitive work on the genre of paintings known as Architectural Capricci, or architectural ruins paintings. Piraneseum's Capriccio with Figures Among Roman Ruins, by Giovanni Ghisolfi, was selected as the cover image of Il Capriccio Architettonico: in Italia nel XVII e XVIII secolo, 2015, Rome.
With over 1200 photos, these three definitive volumes constitute the best and most comprehensive Art historical treatment ever undertaken of the subject of 17th and 18th century Italian architectural ruin paintings. Author Sestieri, the world's leading expert with this fascinating and surprisingly influential genre of painting, writes in insightful ways about the history of this essentially Baroque phenomenon, and its artistic twists and turns, including the work of its most well-known practitioner, the 18th century Roman vedutista, Gian Paolo Panini, whose canvases at auction today can bring millions of dollars.
Sestieri's deep research has also brought to light the accomplishments of many significant capriccio painters – Giovanni Ghisolfi, Gennaro Greco, Leonardo Coccorante, Pietro Paltronieri, etc., etc., whose work has been overlooked, nearly forgotten over the past two hundred years. Importantly, for those interested in Modern Art, professor Sestieri lays out the integral role of Italian capricci in the entire development of painting from the 17th through the late 19th century, including the ways French Impressionism relied on Venetian artists (and ruins painters) such as Guardi and Canaletto; whose Art, in turn, relied upon both Roman and Neapolitan capriccio painters.
With some painters, their influence on later artists and effect on the course of Art may be just as important as their own work.
Historian Rudolf Wittkower writes of Giovanni Ghisolfi (Milan 1623 – 1683), "… he made his fortune as Italy's first painter of views with fanciful ruins." These views – called capricci or veduti ideate – became a distinct genre in Italian painting, stretching over a century and a half. Adds Wittkower, "Rome had at least one great master (Gian Paolo Panini) who raised both the vedute esatte and vedute ideate (exact and imaginary views) to the level of great art … (O)ne cannot doubt that he received vital impulses from the precise art of Giovanni Ghisolfi, whose vedute ideate show the characteristically Roman scenic arrangements of ruins."
Nobly born in Milan in 1623, his father an architect, and trained in architectural painting by his uncle, Antonio Volpeno, Ghisolfi travelled to Rome in 1650. There, he struck up a friendship with the Neapolitan-born Salvator Rosa, described by Wittkower as the "most unorthodox and extravagant of the Late Baroque Roman painters." In addition to working in his studio, Ghisolfi frequently collaborated with Rosa over the course of his career, the latter adding figures to the former's architectural views.
This painting, showing robed philosophers holding forth in an imaginary setting (fig. 1), epitomizes "the characteristically Roman scenic arrangement of ruins" described by Wittkower and is a clear precursor to later work by Panini, some of it along very similar lines. Historian Giancarlo Sestieri describes this painting, -"Senza dubbio questo dipinto e uno dei capolavori in assoluto del Chisolfi" (Without doubt this painting is one of Ghisolfi's absolute masterpieces).
Literature
Giancarlo Sestieri,  Il Capriccio Architettonico: in Italia nel XVII e XVIII secolo, (2015), Rome, illus. on cover and Vol II, fig. 80, p. 176. 

SFO Airport Museum, All Roads Lead to Rome, (2017), pp. 26-7, illus. p. 27. .
Exhibition
SFO Airport Museum, All Roads Lead to Rome: 17th-19th Century Souvenirs from the Collection of Piraneseum, January 24-August 13, 2017
Tiffany & Co. Archives Acquires Piraneseum's 19th C. Model of New York's Cleopatra's Needle, Made by Tiffany & Co.
March 5, 2015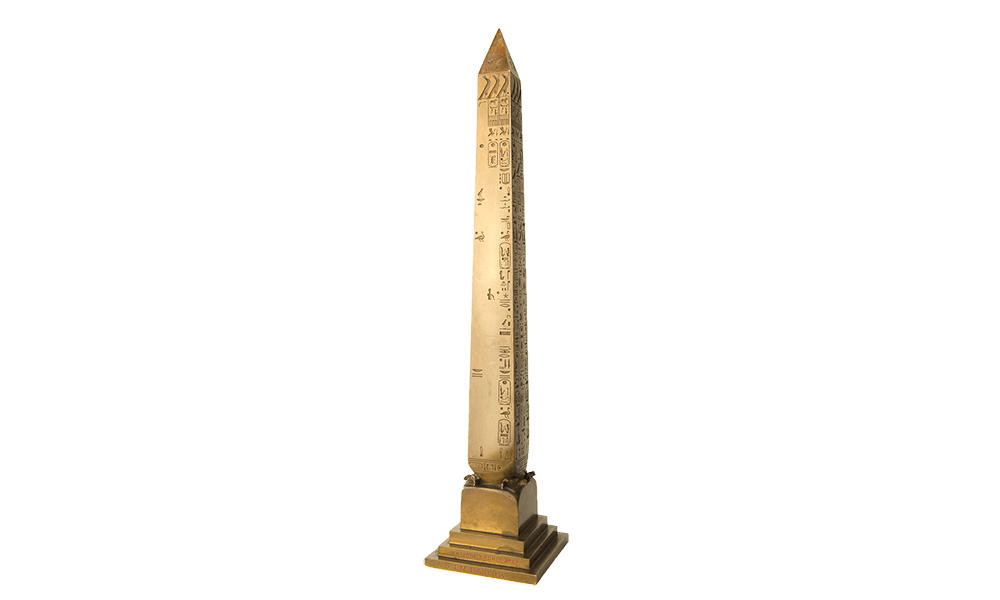 Cleopatra's Needle, New York
patinated bronze
15″ h., ca. 1881
Tiffany & Co.
The Tiffany & Co. Archives contacted Piraneseum to purchase this model – for they didn't have one! The Archives intend to assemble a collection of the most significant objects produced by Tiffany & Co., and the Cleopatra's Needle Obelisk is one of the most historically significant examples. Charles Lewis Tiffany (father of Lewis Comfort Tiffany, who later had a different enterprise) was on the board of the Metropolitan Museum of New York. The Cleopatra's Needle was installed in Central Park adjacent to The Metropolitan Museum, and their histories are intertwined.
In 1879, under the sponsorship of business mogul William Vanderbilt, naval engineer Henry Gorringe set sail for Alexandria, Egypt, to retrieve the ancient Obelisk of Thutmose III (soon to be called Cleopatra's Needle) and bring the 200 ton monument to New York.
On January 22, 1881, the Needle was erected in Central Park, where it stands today. To commemorate the undertaking, Gorringe commissioned from Tiffany a small number of bronze models of the Obelisk, which were distributed to colleagues as well as those who had supported the undertaking. Little else is known about these rare and extremely finely made models.
This very highly-realized model was presented to Samuel L. M. Barlow, lawyer/tycoon/political intriguer and almost certainly an acquaintance of Vanderbilt.  The Barlow Cleopatra's Needle was formerly the property of the National Arts Club, New York City.