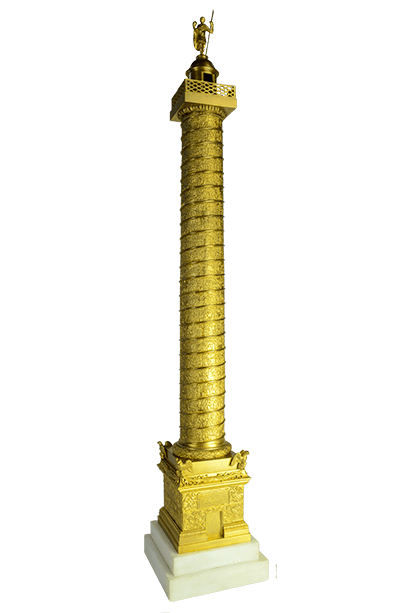 Trajan's Column, Rome
gilded bronze & marble
32-1/2″, ca. 1870
Exhibition
SFO Airport Museum, All Roads Lead to Rome: 17th-19th Century Souvenirs from the Collection of Piraneseum, January 24-August 13, 2017
By the 1810's, the Roman foundry operated by Wilhelm Hopfgarten and Benjamin Jollage had become known (both by well-to-do Grand Tourists and Vatican and other State officials) for their remarkably-detailed, high quality gilded bronze models of several of the Eternal City's best-known ancient monuments, especially their replica of Trajan's Column.
Hopfgarten and Jollage, Prussian émigrés, established a variety of conventions with these fancy souvenirs, which were later copied by others. Among these was that the antique monuments were shown as they had appeared in antiquity, rather than as they were seen c. 1815. In the case of Trajan's Column, this meant that the Prussians' luxe models were surmounted by figures of Trajan (present atop this monument from c. 100 AD through to the Middle Ages) rather than the current day St. Peter (a relative newcomer to the perch, selling in in 1587).
Despite this model's lavish finish and remarkable detail, both of which closely mirror Hopfgarten and Jollage's work, it was made, not in Rome, but in Paris, not in the 1810's, but, probably, c.1870. We've another, very nearly identical model on which, cast into the surfaces of some of its parts, visible only upon disassembling, is the maker's name – Leblanc Freres. In this period, the Freres also produced, of course, a range of Parisian souvenir architectural models, including the Luxor Obelisk, Arc de Triomphe, and, especially, Colonne Vendome.
Interestingly, the Freres' making of an out-of-town monument parallels the efforts of certain London-based souvenir sellers in the 1820's and 1830's, who not only offered models of specific Egyptian obelisks, but imported (from Italy) select Roman and Pisan architectural models. Thus, one could collect souvenirs of the Grand Tour without ever leaving home.
This French model of Trajan's Column is wonderfully precise. The spiraling decoration of the shaft accurately reproduces that on the monument, which is a recounting of Rome's victory over the Dacians under the leadership of Trajan. Visible through a magnifying glass is every Roman legionnaire, fortification, horse, and prisoner. At the base, the detail is even more exacting, portraying the highly complex reliefs of military trophies, as well as a line of Latin above the entrance, chiseled into the bronze, matching the text see yet today. As the base's four corners, the talons of Roman imperial eagles grasp the ends of decorative swags reaching around all four sides – a detail rarely seen.